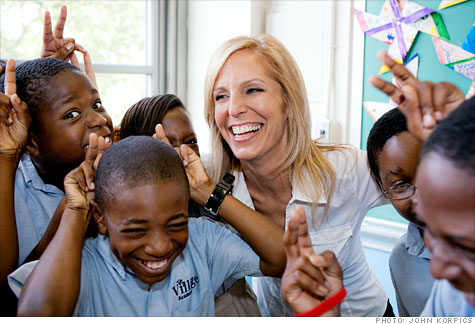 Deborah Kenny: From president of Sesame Street Publishing to founder and CEO of Harlem Village Academies
FORTUNE -- Before Deborah Kenny quit her job in 2001 to start a school for underprivileged youth in Harlem, her friends staged an intervention. They listed their concerns: She would run out of money, she'd lose her house, and, worst of all, as a new widow she wouldn't be able to adequately provide for her three young children. Kenny did not budge. "I felt like I would die if I didn't start this school," she says. Kenny found herself sketching out the plans for her new education program during meetings, the way others might doodle.
After she left her job, she set up shop in a corner of the playroom in the basement of her house. Funding nearly fell through, her charter applications almost got denied, and she even had to take out a bridge loan from her neighbor. Still, Kenny did not drift from her vision. In 2003, buoyed by a $1 million Gates Foundation grant, Harlem Village Academies launched its first middle school, and opened a second in 2005. To call the schools a wild success would be an understatement. In 2007 students posted such high test scores that President Bush visited. HVA's eighth-graders have hit 100% math proficiency for the past four years. Attrition across all grades in 2011-12 was just 4%, though Kenny isn't shy about holding students back a grade. It added a high school in 2007 and this summer graduated its first class of seniors, who went on to attend the likes of Yale, Bard, and Occidental.
Kenny straddles two worlds -- business and education. The windows of her office overlook blocks of housing projects, and her bookshelf is packed with management guides (Peter Drucker's Management Challenges for the 21st Century, Jack Welch's Jack: Straight From the Gut). In a single breath, she name-checks Barry Diller before citing Toyota's management philosophy and Rainer Maria Rilke's Letters to a Young Poet. Her title at HVA is CEO.
Kenny's founding philosophy is to create a teacher-focused institution. She has boosted instructor pay and gives them freedom to craft their own curriculum. Remarkably, HVA students aren't "taught the test," despite such strong test scores. She consulted with Michael Dell and Welch on improving employee productivity and morale. A maniacal work ethic is the common practice at HVA, and Kenny seems to lead the charge -- the last time Kenny took a vacation was four years ago. Soon she plans to add two more elementary schools and a guidance center for HVA alums. And her book about starting HVA and her mission to empower teachers, Born to Rise, comes out in early June. When you're in the right line, she says, "work is more fun than fun."