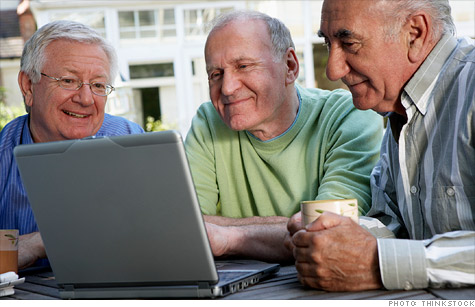 Facebook's IPO is one of the hottest topics of conversation among seniors living in a retirement community in Boynton Beach, Fla., according to one resident.
NEW YORK (CNNMoney) -- Senior citizens may represent one of the smallest segments of Facebook's 900 million users, but at least one group is eager to invest in this week's IPO.
Facebook's initial public offering has been one of the hottest topics of conversation among seniors living in a retirement community in Boynton Beach, Fla., said 79-year-old resident Alvan Sweet.
Three of his retired friends -- two former doctors and a business owner -- have been badgering Sweet to help them secure shares. Facebook (FB) will officially price its shares Thursday night, and begin trading on the Nasdaq Friday morning under the ticker "FB."
Sweet, a retired engineer, is an experienced IPO investor who introduced his son Scott, now a senior managing partner at research firm IPO Boutique in Lutz, Fla., to the market nearly 40 years ago.
"When I was investing in other IPOs in the past, I mentioned them to my friends because I thought they were also good opportunities for them, but they never showed much interest," said Sweet, who's had a home in the Florida community for 16 years. "Now all of a sudden, they're very aggressively pushing me to do something to help them invest in the Facebook IPO."
While his friends, who were not willing to directly speak to media, have Facebook accounts and "know a bit" about the company and its financials, Sweet says he's not sure "they understand the risks of investing in IPOs, especially ones that are heavily sought after."
A stock may pop on its first day of trading, but recent IPOs have had trouble sustaining that momentum, said Sweet, pointing to Groupon (GRPN), which soared 31% in its stock market debut but is now trading more than 40% below its IPO price of $20.
That's why Sweet, who doesn't have a Facebook account, said he would never consider investing in the social networking website, which is expected to be the largest IPO Silicon Valley has seen since Google (GOOG, Fortune 500). Ever since the stock market tumbled in 2008, Sweet has become more cautious and is invested in balanced funds that are targeted toward retirees.
Fellow senior citizens and legendary investors Warren Buffett, 81, and Charlie Munger, 88, aren't interested in investing in Facebook either.
"We never buy into an offering" Buffett told CNN at Berkshire Hathaway's (BRKA, Fortune 500) annual meeting in Omaha earlier this month. "The idea that something coming out...that's being offered with significant commissions, all kinds of publicity, the seller electing the time to sell, is going to be the best single investment that I can make in the world among thousands of choices is mathematically impossible."
Despite his hesitations, Sweet's friends are still chasing the Facebook IPO, hoping that their brokers will be able to secure them a piece of the pie, he said.
Living without Facebook? We want to hear from people who have logged off for good. Upload to CNN iReport: on.cnn.com/KfGQ36