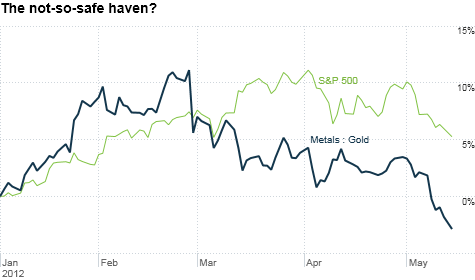 Gold prices have slid in tandem with the broader stock market as Europe debt crisis fears and concerns about a slowing global economy have investors fleeing all risky assets.
NEW YORK (CNNMoney) -- So much for gold being a safe investment in times of market volatility.
The yellow metal has pulled back sharply in the past month and a half on Europe fears -- just like stocks. At about $1,560 an ounce, gold is 13% below its 2012 high of near $1,800 back in March. Gold prices are now down slightly year-to-date.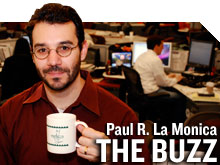 For any investor who views gold as an alternate currency and believes that the metal's price should move higher thanks to turmoil in Europe and worries that the euro would completely unravel if Greece exits the eurozone, think again.
Gold bugs may be forgetting that gold really thrives during times when inflation fears are running rampant. This is not one of those times. The sluggish U.S. job market, slowing growth in China and recession in much of Europe all scream global economic weakness.
"Inflation is modest because of significant unemployment, The case for gold is when the economy is getting better," said Barry Ritholtz, CEO of Fusion IQ, a New York-based research firm. "Right now, gold is less than an ideal investment."
Yes, gold surged to an all-time high (not adjusted for inflation) of above $1,920 an ounce last September. That was shortly after the credit rating of the United States was cut by Standard & Poor's following the debt ceiling mess on Capitol Hill.
At that time, demand for U.S. bonds was extremely high as well. The 10-year Treasury yield was also near an all-time low. (Bond prices and rates move in opposite directions.) So it seemed last fall that gold was being viewed as a classic safe haven.
But that may have created some froth in the market for gold. Even some gold investors conceded that prices got way ahead of themselves. So this recent pullback may be the continuation of a needed correction.
"I am a bull on gold long-term. But a lot of interest in gold over the past year has been speculative. It had been due to concerns about political paralysis on both sides of the Atlantic," said Brian Gendreau, market strategist with Cetera Financial Group in Los Angeles.
Investors may be dumping gold as they begin to realize that it may not be as safe as they thought. And you can't really blame some long-term gold investors for cashing in now.
The SPDR Gold Shares Trust (GLD), an exchange-traded fund that invests in the commodity, is still up more than 65% since the stock market bottomed in March 2009.
Cameron Brandt, director of research with EPFR Global, a Boston-based firm that tracks mutual fund flows, noted that there has been a steady level of redemptions from gold funds over the past few weeks.
"People are looking to get back into cash and move to the sidelines. Given Europe's troubles, there is a segment of investors that may want to be liquid either to sidestep more trouble or pounce on other opportunities," Brandt said.
Investors in gold miners seem to be betting on further price declines as well. The Market Vectors Gold Miners ETF (GDX), which owns shares of mining leaders like Barrick Gold (ABX), Goldcorp (GG) and Newmont Mining (NEM, Fortune 500), is down nearly 20% this year.
Ritholtz, who said his firm does have a position in gold, said that having some gold investments makes sense. Gold should rise when the U.S. dollar is weakening and inflation is a worry.
But he added that the biggest problem with the metal is that it's not as easy to objectively value it like a stock or bond. Still, he said some investors treat gold like a "cult" and refuse to believe that the prices can ever go down.
"Gold doesn't have any earnings. It doesn't pay you interest. It's a shiny yellow metal. Its value only comes from its relative rarity. It should trade on supply and demand," he said.
Gold is a commodity first and foremost, not a currency. Commodity prices, even for something like gold that doesn't have as much commercial use as other metals, tend to closely track consumer demand. So it should be no surprise that gold prices are now tumbling.
After all, copper prices are sliding. So are the prices of silver and platinum -- and just about every other commodity. Oil is at a five-month low. Wheat, corn and cotton prices are all much closer to their 52-week lows than highs.
"This should not be a surprise. There are good economic reasons for gold prices to be falling," said Gendreau. "A slowdown in Europe and China and lower retail demand for jewelry in India and other emerging markets should lead to a soft market for gold for awhile."
So it looks like austerity isn't just bad news for Greece, Spain and France, it's a downer for anyone investing in the element whose periodic table abbreviation is "Au."
Best of StockTwits: Raise your hand if you've been the CEO of Yahoo (YHOO, Fortune 500) sometime in the past decade.
michellefenton:$YHOO - Good luck Mr. Loeb. U might know how to manage $, but I doubt you know anything about resuscitating a tech co.
TrendRida: Dogs don't chase cars much anymore. Over time they ran out of ideas of what to do when they caught the car... $YHOO
I guess you could say that the resignation of Scott Thompson as CEO is a victory for activist shareholder Dan Loeb of Third Point. But Yahoo, as I point out in today's Buzz video, is now on its seventh CEO since 2001.
It's tough to figure out how new interim CEO Ross Levinsohn, who has a media background, can transform Yahoo. The company already has tried to emphasize content numerous times in the past decade ... with little success.
MichaelComeau: $YHOO up about 30 cents premarket. I wonder if folks are betting current team is giving up and pushing for asset sales.
mojoris1977: the corporate governance reform at $YHOO is the first step monetizing Asia turning around search/display as well as deploying cash is next.
Yahoo's best hopes may lie in finally selling some of its Asian assets and investments to partner Alibaba. Shares were up 3% Monday afternoon so shareholders may be betting that some sales may soon happen at long last.
As for turning around the U.S. search and display business, Levinsohn will face many challenges. For one, Yahoo search is largely out of his control. That's Microsoft's (MSFT, Fortune 500) problem. And on the display side of things, Google (GOOG, Fortune 500) is gaining ground there. So is a little social network called Facebook (FB). I don't envy Yahoo's management team.
The opinions expressed in this commentary are solely those of Paul R. La Monica. Other than Time Warner, the parent of CNNMoney, and Abbott Laboratories, La Monica does not own positions in any individual stocks.