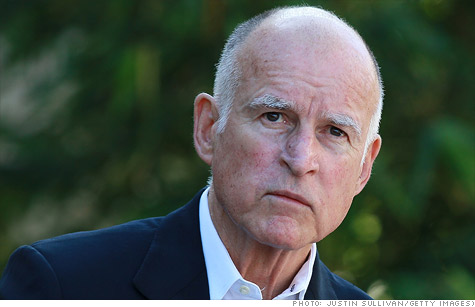 California Governor Jerry Brown wants to raise taxes on the rich to close the state's $16 billion budget gap.
NEW YORK (CNNMoney) -- Tax the rich! That's how California Governor Jerry Brown wants to solve the state's growing budget crisis that now nears $16 billion.
The governor laid out his revised spending plan Monday. It would slash $8.3 billion from almost every part of the state's government. But it would increase funding for K-12 education if voters approve his proposal to hike income taxes on the rich and sales taxes on everyone.
"We can't balance this budget with cuts alone," he said. "The budget I'm proposing will boost funding for education, protect public safety and prevent an even deeper round of trigger cuts."
California's budget predicament shows that states have yet to heal from the Great Recession. While state tax revenues have begun to recover, several states continue to be faced with tough cuts, especially if their revenue projections prove to be overly rosy.
While Brown wants to increase spending on schools, he would cut 5% from state employees' compensation by pursing the implementation of a 4-day/38-hour work week.
The budget would also reduce funding of courts by $300 million and delay court construction. And it would overhaul the corrections system, saving $2.5 billion over the next two years.
Also, Brown wants to transfer cash from redevelopment agencies to cities, counties and special districts to fund core services, saving $1.4 billion.
The revision comes two days after Brown took to YouTube to urge residents to support his November tax proposal, which he said would prevent "severe" damage to schools.
Brown has been hawking a tax hike since he took office in January 2011, but Republican legislators blocked his efforts last year. They say that higher taxes will stifle economic growth and job creation. Already, other states have ramped up efforts to lure companies away from the Golden State.
The proposal calls for raising income taxes on the rich -- those earning more than $250,000 -- by up to 3 percentage points for the next seven years. It would affect about 1% of filers.
Also, the measure would raise California's sales tax by a quarter of a point starting in January and lasting through 2016. That would bump up the average state sales tax rate to 8.4%.
Together, the tax initiative is expected to bring in $8.5 billion, with the personal income tax portion bringing in $7.9 billion. If it doesn't pass, an additional $6 billion would be slashed on January 1, 2013.
But California's Legislative Analyst's Office has cast doubts on Brown's revenue estimates in the past. The office had projected in March that the tax hike would bring in $6.8 billion, lower than the state Department of Finance's $9 billion figure.
California's current budget hinged on a $4 billion increase in state tax revenues. That, however, did not happen. Revenues are more than $3.5 billion below estimates, with the majority of the shortfall coming in personal income taxes, according to the controller's office.
Asked at a press conference whether this week's Facebook's IPO would brighten the state's fiscal outlook, Brown responded: "Who knows? That's Wall Street."
But in his revised budget, Brown included nearly $1.5 billion in additional taxes from the IPO.
The state Legislative Analyst's Office earlier this year estimated California could reap as much as $2.45 billion in additional revenues over the next five years. But it also warned a lot of variables could affect the figure.
Lawmakers now get a crack at the budget, which would start July 1. Last year, legislators lost several days of pay after Brown vetoed their initial budget in mid-June.