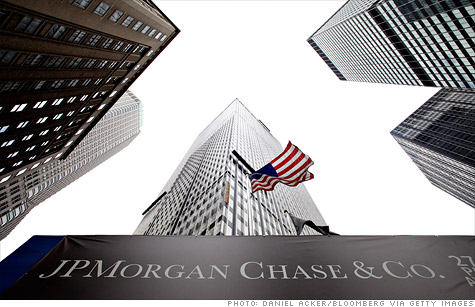 Two years after Dodd-Frank, JPMorgan Chase's $2 billion trading loss has Congress talking about big bank hearings.
WASHINGTON (CNNMoney) -- Congress will weigh in on the news that JPMorgan Chase lost $2 billion on complex trades intended to hedge against economic risk, and that the losses could mount.
The Senate Banking Committee on Monday announced future oversight hearings, including one that will look into the trading losses at JPMorgan Chase from a regulatory angle. Lawmakers plan to question regulators, not JPMorgan Chase (JPM, Fortune 500) officials.
Sen. Bob Corker, a Tennessee Republican, was the first to call for a hearing on Friday.
"Clearly the losses posted by JPMorgan are significant, and as policy makers we should understand in detail what has transpired," Corker said in a letter to Banking Committee chairman Tim Johnson, a South Dakota Democrat.
House Financial Services Committee and House Oversight Committee staff members said they had no plans yet to hold hearings yet.
The JPMorgan controversy comes a little less than two years after a big push for Wall Street reform led to the passage of the Dodd-Frank Act.
On Friday, two senators who helped craft the Volcker Rule -- a new, not-in-effectpart of Dodd-Frank that bars banks from making trades for their own profit-chasing purposes -- denounced JPMorgan's trades.
JPMorgan CEO Jamie Dimon said last week that the faulty trades would have been allowed under the Volcker Rule, named for former Fed chief Paul Volcker, since the rule appears as though it will allow for economic hedging.
However, Democratic senators Jeff Merkley of Oregon and Carl Levin of Michigan, said they intended the law to ban the kind of trades that JPMorgan Chase traders made. They plan to push regulators to write and enforce a strict ban on so-called proprietary trading and hedging against economic forces.
"The law very clearly already excludes this activity," Levin said in a call with the media on Friday. "It specifically says that every single position that you take as a hedge has got to be tied to a specific risk arising from another specific position. Now, that's about as clear as you can write. So the regulators are now hopefully going to implement the law as written."
The news has even drawn angry accusations from the political field. Elizabeth Warren, a Democratic candidate for U.S. Senate in Massachusetts, has called Dimon to step down from his position as a board member of the New York Federal Reserve.
"This is about accountability," Warren told CNN's "Starting Point" on Monday. "Jamie Dimon not only is CEO of JPMorgan Chase, he holds this position of public trust, advising the New York Fed on how to regulate risk for these large financial institutions like his own financial institution,"