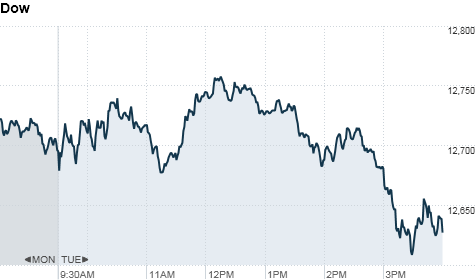 Click the chart for more stock market data.
NEW YORK (CNNMoney) -- U.S. stocks closed at three-month lows Tuesday, sliding during the final hour of trade, as investors faced worrisome signs out of Greece.
Stocks started the day under mild pressure after politicians in Athens failed to agree on a coalition government, and President Karolos Papoulias' office said the debt-wracked country will hold new elections in June in response to the political stalemate.
Selling picked up steam in the afternoon following news that Greek depositors withdrew €700 million from local banks on Monday, according reports citing a transcript of Papoulias' remarks to Greek political leaders that was released on Tuesday.
The Dow Jones industrial average (INDU) lost 63 points, closing at the lowest level since Jan. 19.
The S&P 500 (SPX) fell 8 points, or 0.6%, and the Nasdaq (COMP) shed 9 points, or 0.3%. Both indexes finished at the lowest levels since Feb. 2.
The instability in Greece has re-ignited fears that the country could fail to make debt payments as early as next month, potentially forcing it to exit the euro and imperil Europe's periphery in the process.
"Now Greece is facing at least another month of uncertainty, and that's something that the market hates," said Tom Schrader, managing director at Stifel Nicolaus.
"This doesn't help the rest of the southern European countries in the debt situation either. Spain, Italy and Portugal are going to come back to the forefront as Greece's situation remains fragile," he added.
While Greece continues to be a question mark, better-than-expected economic growth in Germany was somewhat encouraging.
German economic growth came in at 0.5% in the first quarter. That's far better than the 0.2% decline in gross domestic product at the end of last year, which raised fears that Europe's largest economy could fall into recession.
German growth also lifted the reading for all of the European Union to 0.1%, and left GDP unchanged in the 17-nation eurozone.
There had been fears that both the EU and eurozone would report their second straight quarter of declining GDP, the common benchmark for an economy in recession. By that standard, 12 of the nations in the EU are now mired in an economic downturn.
European finance ministers are winding up a two-day meeting Tuesday, and newly elected French President François Hollande is set to meet with German Prime Minister Angela Merkel in Berlin.
Lightning struck the plane carrying Hollande, CNN affiliate BFM-TV reported, forcing the president to return to Paris to board another plane and delaying his meeting with Merkel. No one was hurt, the station reported.
Late Monday, Moody's downgraded 26 Italian banks between one to four notches, saying, "the potential for further rating transition is heightened by the possibility of rapid increases in problem loans."
U.S. stocks fell Monday amid worries about the stability of the eurozone and the safety of the U.S. banking sector.
Economy: Reports on retail sales and inflation for April were close to expectations, providing additional support for stocks.
U.S. retail sales edged up 0.1% last month, below the forecast from economists surveyed by Briefing.com, after increasing by 0.7% in March.
The Consumer Price Index was flat in April, as expected, after rising by 0.3% in March.
Companies: Avon Products (AVP, Fortune 500) said that Coty has withdrawn its bid for the company, less than a week after it upped its offer with backing from Warren Buffett's Berkshire Hathaway (BRKA, Fortune 500). Avon's board had said it wanted a week to consider the latest offer, but Coty demanded an immediate answer. Shares of Avon tumbled.
Dow component Home Depot (HD, Fortune 500), a bellwether of activity in the nation's troubled home-building industry, reported quarterly earnings in line with estimates but issued an earnings forecast that fell short. The stock dipped.
Shares of daily deals site Groupon (GRPN) surged for a second day. The company reported narrowing losses and better-than-expected sales Monday, giving investors hope that it can steady its ship.
Chesapeake Energy's (CHK, Fortune 500) stock dipped after Standard & Poor's downgraded the company's credit rating, citing "mounting turmoil" amid concerns about corporate governance practices and the likelihood Chesapeake will face an even wider budget gap than the agency had previously anticipated.
In a sign of strong investor demand for shares in its upcoming initial public offering, Facebook boosted the target price range for its stock. Facebook (FB) now expects to price its shares at $34 to $38 each, up from the $28 to $35 range it set earlier this month, according to a Tuesday filing with the Securities and Exchange Commission.
JPMorgan Chase (JPM, Fortune 500) shareholders gathered in Tampa, Fla., for the bank's annual meeting. The shareholder meeting comes just days after the bank disclosed a $2 billion trading loss, an event that led to the departure of its chief investment officer and forced CEO Jamie Dimon to apologize for what he called "a terrible mistake."
World markets: European stocks ended modestly lower. Britain's FTSE 100 (UKX) slipped 0.5%, France's CAC 40 (CAC40) dropped 0.6% and the DAX (DAX) in Germany fell 0.8%.
Asian markets ended mixed, with the Shanghai Composite (SHCOMP) closing off 0.3%, the Hang Seng (HSI) in Hong Kong gaining 0.8%, but Japan's Nikkei (N225) falling 0.8%.
Currencies and commodities: The dollar was higher against the euro, the British pound and the Japanese yen.
Oil for June delivery rose fell 80 cents to settle at $93.98 a barrel.
Gold futures for June delivery dropped $3.90 to settle at $1,557.10 an ounce.
Bonds: The price on the benchmark 10-year U.S. Treasury edged lower, boosting the yield to 1.79%.
Are you worried about how the 2012 presidential election will impact your investment portfolio? Which candidate do you think will be better for the stock market? E-mail Hibah.Yousuf@turner.com for the chance to be included in an upcoming story.