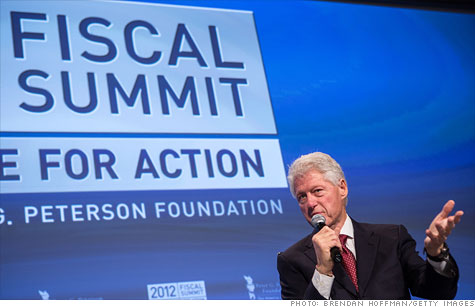 President Clinton urges all candidates for office to campaign on balancing the budget and achieving a debt deal.
WASHINGTON (CNNMoney) -- President Bill Clinton on Tuesday said those running for office should make reaching a debt deal the top campaign issue in the fall's elections.
"I think this budget issue should become front and center in this election, Clinton said on Tuesday at a fiscal summit sponsored by the Peter G. Peterson Foundation.
"As soon as this election is over, I think the incentives will be there for both parties to make more compromises than they have in the past," Clinton added later.
However, he still has some convincing to do. House Majority Leader John Boehner is expected to say later in the afternoon that he won't allow another increase in the debt ceiling without more spending cuts.
At issue is how to address some $7 trillion in tax increases and spending cuts that will kick in at year's end if Congress does not act. The combination of cuts and tax hikes could upend the economic recovery, experts say.
Clinton said he doubted that Congress would come to a budget deal before the elections. And he said he's worried the defeat of centrist Republicans, like Indiana Republican Sen. Dick Lugar, could make compromise impossible.
Clinton decried politicians who have a mindset of, "I'm just against compromise, and our world views are irreconcilable, and we have to force people to choose between us."
Clinton said he would like to see a "very tough deficit-reduction plan," that wouldn't kick in until the economy has reached 3% growth for a few consecutive quarters.
He warned that if leaders don't reach a budget deal before the economy starts growing, Americans will regret it.
"If we don't deal with it, we will have growth come back and interest rates will go up so fast you won't be able to catch your breath," Clinton said. "And everybody will say, 'Why didn't we do this earlier?'"