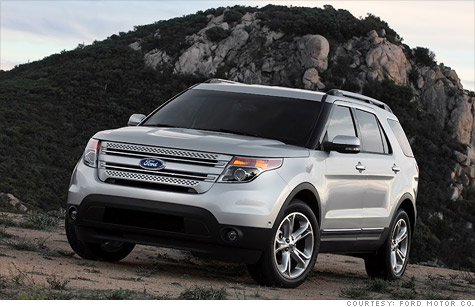 SUVs are more popular than ever because automakers have learned to capitalize on their benefits while minimizing the downsides by using car-based engineering as in the new Ford Explorer.
NEW YORK (CNNMoney) -- If you thought the "SUV craze" was over, you're wrong. Very wrong. Market share for SUVs in recent months is the largest it has ever been.
During the height of the so-called "SUV craze" in the late 1990s and early 2000s, about one in five vehicles sold in America was an SUV. Today, in an era of near $4 gasoline and heightened environmental awareness, nearly one in three vehicles sold is an SUV.
Far from becoming forgotten relics of our misguided past, SUVs have survived and prospered by adapting to changing consumer tastes.
A decade ago, SUV buyers climbed up into huge vehicles that were, essentially, heavily modified trucks designed to excel in off-road driving and for hauling heavy trailers. They got terrible fuel economy and, with their tendency to tip over, they were dangerous, as well.
Today, big truck-based vehicles make up a tiny sliver of the SUV market. Ninety percent of the SUVs sold are mid-sized or smaller and the vast majority have nothing to do with trucks. These are high-riding cars. Most are front-wheel-drive, or if they're not, they're all-wheel-drive.
Electronic stability control, now required by law on all vehicles, has greatly reduced rollover risk in SUVs. ESC systems can help prevent a vehicle from skidding or tipping over during abrupt maneuvers.
Many of these new SUVs get fuel economy that's as good or better than passenger cars sold just a few years ago. General Motors' (GM, Fortune 500) new Chevrolet Equinox SUV, for instance, gets better combined city and highway mileage than a 4-cylinder 2010 Honda Accord.
Finally, on-road handling and performance is actually a selling point for many of these new, smaller vehicles. That's made possible by lighter weight construction, more sophisticated suspension systems, and some serious compromises. Any notion drivers of these vehicles may have of serious off-road use must be put aside.
When Ford Motor Co (F, Fortune 500). was creating its new Explorer SUV, the automaker decided to use a car-based design shared with the Taurus sedan rather than the truck-based engineering used in previous generations. Ford's customer research showed that, despite the old Explorer's vaunted off-road capabilities, very few Explorer owners ever ventured far from paved streets.
Once the new car-based design was introduced, Explorer sales nearly tripled, according to data from J.D. Power and Associates.
As the downsides of SUV ownership dwindle with improved fuel economy, ride quality and handling, more consumers are switching out minivans and cars, said Jeff Schuster, an industry analyst with the consulting firm LMC Automotive. The attraction, as it has always been, is that SUVs offer the cargo space and flexibility of minivans and wagons but with an added dash of excitement.
"It's rejuvenated the image of the multi-purpose vehicle," he said.
The biggest growth, however, has been among small SUVs like the Ford Escape, Honda CR-V and the new Mazda CX-5.
"For all intents and purposes, we're sold out," Mazda spokesman Jeremy Barnes said of the CX-5.
Overall marketshare for small SUVs has more than doubled over the past seven years, said Ford sales analyst Erich Merkle. Today, they represent 45% of all SUVs sold. One reason is just that there are so many more small SUVs to choose from.
Besides providing more options, that variety actually generates more interest from consumers, said Schuster. Buyers who would have never considered an SUV before are looking now because they're confident they'll find something they like.
Small and mid-sized SUVs are attracting both the older and younger buyers for different reasons.
Older buyers are trading down into smaller SUVs as their kids leave home and they no longer need the space the larger vehicles offered, said Schuster.
Also, older drivers like having vehicles that they can get in and out of easily, said Merkle. SUVs, with their high seating, are easier to gracefully enter and exit than ordinary cars with seats down near ground level.
Younger buyers like the new smaller SUVs' cool looks and the fact they're clearly distinct from anything Mom and Dad ever drove.
"Nobody wants to drive what their parents drove," said Mazda's Barnes.