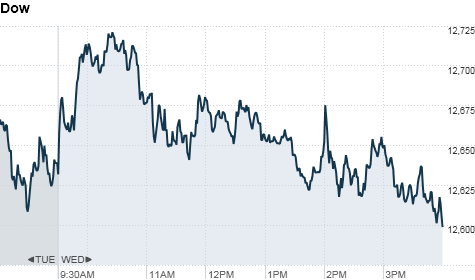 Click the chart for more stock market data.
NEW YORK (CNN Money) -- Following a positive start, U.S. stocks closed in the red for a fourth straight session Wednesday, as investors weighed strong U.S. economic data against ongoing uncertainty about Greece's political situation.
The Dow Jones industrial average (INDU) fell 33 points, 0.3%, finishing at the lowest level since mid-January.
The S&P 500 (SPX) dropped 6 points, or 0.4%, and the Nasdaq (COMP) lost 20 points, or 0.7%. Both indexes closed at the lowest level since early February.
Investors started the day encouraged by data that showed U.S. housing starts rebounded from a five-month low and industrial production posted its fastest growth in over a year. Later in the day, anxiety over Greece's future took precedence.
After politicians in Athens failed to agree on a coalition government, President Karolos Papoulias called for all parties to set up a caretaker government that will conduct new elections next month.
The instability in Greece raises questions as to whether the country will be forced to leave the eurozone and what such a move would mean for other troubled European economies.
"We're not at a tipping point yet, but there's concern that we could get there if the Greek election on June 17 goes the way of the previous one -- with an inconclusive result," said Michael Hewson, analyst at CMC Markets in London.
Investors were also spooked following reports that the European Central Bank has stopped providing liquidity to some Greek banks.
Despite the uncertainty, comments from European leaders helped stem some pressure. German Chancellor Angela Merkel reiterated that her country wants Greece to remain in the eurozone and will make every effort to help the nation get on solid footing. She said she agreed with France's newly elected president Francois Hollande to consider measures to spur growth in Greece.
Spanish Prime Minister Mariano Rajoy also said it would be 'a very big mistake' if Greece were to exit.
Borrowing costs initially surged, with Spain's 10-year yield jumping to 6.5%, before pulling back to 6.3%. Italian bond yields also jumped to 6% before easing to 5.8%.
While Europe's debt crisis remains a broad concern for U.S. investors, hopes are high that U.S. financial institutions have had ample time to protect themselves from the effects of contagion.
"The U.S. banks have been taking many more steps to deal with delinquent loans and against European sovereigns, something that European leaders have been extremely bad at," said Hewson.
Moreover, while the 27-nation European Union and the 17-nation eurozone are teetering on the edge of recession, the U.S. economy continues to grow, albeit at a slow pace.
U.S. stocks closed at three-month lows Tuesday as the eurozone debt crisis continued to take a toll on the markets.
World markets: European stocks closed mixed. Britain's FTSE 100 (UKX) rose 0.1% and France's CAC 40 (CAC40) added 0.3%, while the DAX (DAX) in Germany slipped 0.3%.
Asian markets ended lower. The Shanghai Composite (SHCOMP) fell 1.2% and Japan's Nikkei (N225) dropped 1.1%, while the Hang Seng (HSI) in Hong Kong plunged 3.2%.
Economy: Housing starts jumped to an annual rate of 717,000 in April, from the revised level of 699,000 in March. Analysts surveyed by Briefing.com had expected a rate of 680,000.
Meanwhile, building permits fell to an annual rate of 715,000 in April, from the revised figure of 769,000 in March. Analysts expected permits to fall to 730,000.
April's reading "supports our view that housing is in recovery mode," said Paul Diggle, property economist at Capital Economics. "We expect housing starts to rise further later this year."
Diggle also added that he doesn't expect the latest escalation in Europe to derail the U.S. housing recovery.
"After all, the fallout for the U.S. banking system from a Greek exit will be relatively limited," he said. "The flow of credit to homebuilders, institutional buyers and households therefore shouldn't become materially tighter, allowing the volume of housing starts to continue rising."
The Fed's reading on the nation's factory output was also better than expected. Industrial production rose 1.1% in April, rising at the fastest pace since December 2010. Economists were forecasting that industrial production rose 0.5% in April after being unchanged the previous month.
Meanwhile, the Fed also released the minutes from the April meeting of the Federal Open Market Committee.
According to the minutes, "several members indicated that additional monetary policy accommodation could be necessary if the economic recovery lost momentum or the downside risks to the forecast became great enough."
In previous minutes, only "a couple of members" expressed support for further stimulus.
Companies: Facebook boosted the size of its IPO by 25%, seeking to raise up to $16 billion, according to an SEC filing.
Shares of retailer JC Penney (JCP, Fortune 500) tumbled after it reported a much bigger than expected loss for the most recent quarter. The company also discontinued its dividend.
Staples (SPLS, Fortune 500) reported earnings in line with expectations, but a surprise 1% drop in sales sent shares of the office supply company lower.
Shares of Deere (DE, Fortune 500) were lower even after the company beat expectations on its quarterly results and raised its forecast.
Target (TGT, Fortune 500) also beat expectations and increased its forecast, pushing shares higher.
According to documents filed with the SEC, Warren Buffett's Berkshire Hathaway (BRKA, Fortune 500) built new positions in General Motors (GM, Fortune 500) and Viacom (VIA) during the first three months of 2012.
The director of the FBI said Wednesday that the agency has opened an investigation into JPMorgan Chase (JPM, Fortune 500), the nation's largest bank, a week after the bank disclosed a $2 billion trading loss.
Shares of Martin Marietta (MLM) tumbled into the close after hedge fund manager David Einhorn of Greenlight Capital said the company has many problems, while speaking at the Ira Sohn Research Conference in New York.
Shares of Amazon (AMZN, Fortune 500) also slipped after the famed short seller knocked the company. Einhorn also remains favorable on Apple (AAPL, Fortune 500).
Meanwhile, shares of Herbalife (HLF) popped 17% due to the fact that Einhorn didn't mention the company. Earlier this month, its stock took a hit after Einhorn posed a series of questions to Herbalife executives during its earnings conference call, asking for details about sales sources and disclosures that have been provided in the past.
Currencies and commodities: The dollar gained gained strength against the euro, British pound and Japanese yen.
Oil for June delivery fell $1.17 to $92.81 a barrel, the lowest since November.
Gold futures for June delivery lost $20.50 to settle at $1,536.60 an ounce, the lowest since last July.
Bonds: The price on the benchmark 10-year U.S. Treasury edged higher, pushing the yield down to 1.76% from 1.79% late Tuesday.