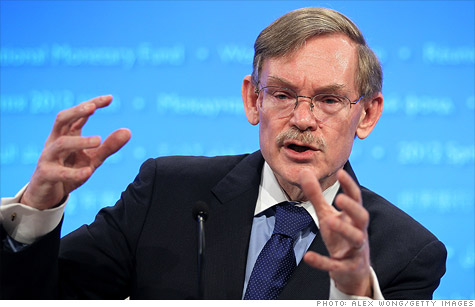 Outgoing World Bank President Robert Zoellick said Wednesday that he's worried about the eurozone.
WASHINGTON (CNNMoney) -- Outgoing World Bank President Robert Zoellick said Wednesday he's concerned about the "ripple effects" on the rest of the eurozone if Greece leaves.
"The core question will actually not be Greece, it's Spain and Italy," Zoellick said during a forum sponsored by the Economic Club in Washington. "If Greece does leave, frankly, there has to be a lot of care taken to how that's done."
Zoellick said the situation was comparable to Lehman Brothers' collapse in 2008 and the unanticipated global repercussions on the financial markets. In Greece's case, the problem is the inter-connectiveness of economies, especially in Europe.
"Where the danger comes in is when events come, they start to affect confidence and you get illiqudity moments," said Zoellick, whose term running the World Bank ends next month.
He said he's been pushing measures such as more capital investment in the European Investment Bank, the bank for the European Union.
"I don't think (capitalization) is enough. I think the key issue we're going to have to come to terms with is (that) if you want medium-term reform, you need some sort of medium term insurance for investors," Zoellick said.
He said he'd favor allowing the European Union to issue so-called "eurobonds" for a limited time to help stabilize the European economy. That would give Italy and Spain enough time to implement fiscal reforms.
Zoellick also suggested using the European Stability Mechanism fund, an emergency rescue fund for the 17-member eurozone.
"Those are (issues) for Europeans to decide, but I think they're going to need a funding match with the reform match," Zoellick said.
When Zoellick steps down, he will be replaced by Jim Yong Kim, president of Dartmouth College, who will start the job as president on July 1.
Zoellick served as a deputy secretary of state during the George W. Bush administration and an international vice chairman at Goldman Sachs (GS, Fortune 500). He is rumored to be in line for jobs as Treasury Secretary or Secretary of State if Mitt Romney wins the presidency this fall.