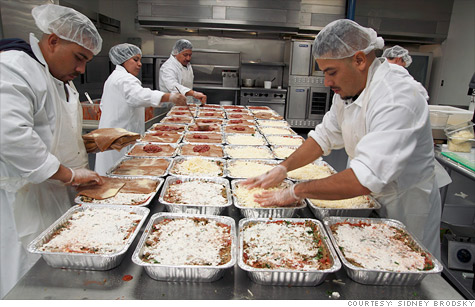 When the economy tanked, James Gerard Foods couldn't pay its workers Christmas bonuses. Four years later, it's doing much better.
NEW YORK (CNNMoney) -- It's a question that could determine if President Obama gets to serve another term: Are you better off than you were four years ago?
CNNMoney put the question to six small business owners -- Democrats, Republicans and independents.
Their answer: They are doing much better, but the president and Congress deserve minimal credit for it. They have clawed their way through the economic recovery on their own. They pay little mind to Washington's tax breaks and emergency policies.
Take the case of James Gerard Foods, which prepares and delivers catered meals to hotels in Phoenix.
For owner and chef Sidney Brodsky, the low point came one day in December 2008. He was forced to call his 40 employees to the kitchen floor and tell them they would receive no Christmas bonuses.
Almost four years later, things have turned around. Brodsky took lessons from a business coach and expanded his customer base. Now business is going well and he can afford bonuses -- and raises -- for his now 51 employees.
"The government did not have that much to do with it. I don't see any policy they put in place that specifically helped us or our local economy," Brodsky said.
It's the same for Colombia-born entrepreneur Abi Mandelbaum, who launched YouVisit in Aventura, Fla., in 2008. The company makes virtual walking tours of college campuses, promising schools it will increase interest in admissions.
It was a tough sell a few years ago, as universities wrestled with quickly dwindling budgets. He recalls traveling to a small, private Massachusetts university that had used the program in a free beta test only to hear it couldn't afford the program, despite great results.
Since then, YouVisit has grown to 50 employees from 5. What were a few dozen schools has become a client base of 150 universities in Canada, Europe and the United States. Economic stability helped a great deal, Mandelbaum said, but it didn't do it all.
"It would be a stretch to say whether the president's been good or bad for my business," Mandelbaum said.
And even where the small business owners pointed to helpful policies, there are caveats to their economic recovery.
For example, Housing America Realty in Los Angeles received a major boost in home sales from the emergency expansion of the first-time homebuyer credit.
But co-owner Marissa Solis said her company, which buys homes at foreclosure auctions, had a difficult time re-selling some homes because of a new federal law protecting non-paying residents who refused to leave.
For Susan Silberisen, the problem was that Washington's help came with too many strings attached.
Silberisen, president of Phoenix-based information technology consultant BestIT, thought business would improve because potential clients received money from the 2009 Recovery Act. However, she said the government required strict documentation that held back deals for too long.
"I'd love to say that some of the restructuring money made its way to us, but we didn't see a dime of that," Silberisen said.
Distinct among the six reached by CNNMoney is the co-owner of Bloodshot Records, Nan Warshaw, who credits Washington with directly helping her stay in business.
She received $6,000 for covering her employees in 2010 through a tax credit within Obama's health care reform. It helped Bloodshot hold on until the economic recovery got going and album sales picked up again.
"I give him credit for turning the economy around," she said. "It's not something that can be turned around easily."
On the other side of the spectrum, Obama's efforts haven't resonated with Paul Butler, a British man who fell in love with the United States and moved his family to Santa Clarita, Calif., in 2006 to start a staff training company. The Reagan calendar he keeps on the wall inside his office is a testament to the anti-regulation attitude that drew him over.
Butler's darkest moment came in 2009, when he maxed out his $30,000 credit limit and feared business failure would mean a one-way ticket home for his entire family. He shortened training sessions to draw more clients and it worked. He credits those changes with his firm's survival.
"I can't put my finger on one thing and say, 'Because Obama did this, it worked for us,' " Butler said.