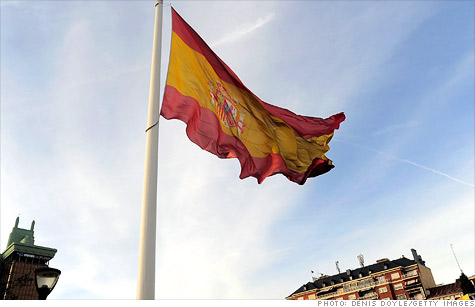 NEW YORK (CNNMoney) -- Spain got yet another slap in the face Thursday, when Moody's Investors Service downgraded four regions of the country due to their poor fiscal performance.
The credit ratings agency issued the downgrade of Catalunya, Murcia, Andalucia and Extremadura because the regional governments are using massive amounts of debt to fund their operations and are unlikely to meet a financial target set by Spain's central government.
The Spanish government wanted regional governments to not allow their budget deficits to exceed 1.3% of their gross domestic product, but all four regions are currently running deficits that exceed 3% of their GDP.
Catalyunya, a region at the northwestern tip of Spain, and Murcia, a small region in the south, are particularly in trouble. Moody's cut both their ratings to junk status after neither region cut their education and health spending enough to stay within budget.
Catalyunya's debt exceeds its revenue by more than two-to-one, and Moody's expects that ratioo to increase going forward.
Overall, Spain has pledged to cut its national deficit to 5.3% of GDP, but last week the European Commission forecast it will fail to meet that goal, instead hitting 6.4% of GDP. The country announced about $35 billion in budget cuts earlier this year.
Credit downgrades are a worrisome sign to investors and can often cause a country's borrowing costs to rise.
The yield on Spain's 10-year bond has spiked in the last two weeks, and is now trading around 6.3%, its highest level since November.