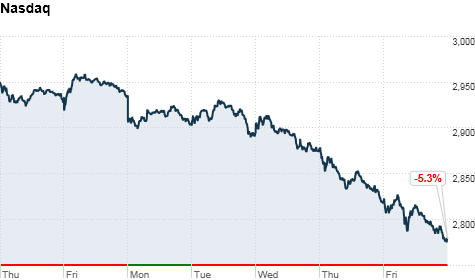 Click chart for more markets data.
NEW YORK (CNNMoney) -- Stocks closed out an ugly week. Despite initial euphoria surrounding Facebook's public debut, the social network's shares barely popped above its offering price and failed to inspire investors to buy into the broader market.
All three indexes clocked their worst weekly losses of the year, finishing at the lowest levels since January.
U.S. investors focused on the global issues plaguing world markets Friday, which pushed stocks down for the third straight week.
On Friday, the Dow Jones industrial average (INDU) lost 73 points, or 0.6%. The index is down 3.5% for the week.
The S&P 500 (SPX) slipped 10 points, or 0.7%, and 4.3% for the week. The Nasdaq (COMP) fell 35 points, or 1.2% Friday and 5.3% for the week.
Facebook (FB), which priced its initial public offering at $38 a share after the closing bell Thursday, jumped 11% when it started trading mid-morning Friday, but closed just above break even line.
"People are talking about Facebook, but it's really a sideshow," said Win Thin, an emerging market strategist for Brown Brothers Harriman. "If Europe blows up, people will trade on that more than anything else."
The European debt crisis loomed over global markets. Asian stocks sold off sharply, based partly on the slowdown in the Chinese economy. European markets were also under pressure, and borrowing costs for Spanish and Greek debt remain high.
Concerns are mounting about a potential Greek exit from the euro, and the implications that it could have for other fiscally troubled nations such as Spain and Italy. Rating agency Moody's downgraded 16 Spanish banks Thursday, including giants Banco Santander (STD) and BBVA (BBVA), the latest sign of distress in Europe.
Greece, currently operating with a caretaker government, could leave the eurozone if anti-austerity parties triumph in elections next month.
A growing number of depositors are withdrawing their money from Greek banks amid worries that their savings could be converted to a devalued currency if Greece drops the euro. The rapid withdrawals are putting further strain on the country's struggling financial sector.
U.S. stocks closed lower Thursday. Investors fled stocks and made a rush toward the safety of U.S. Treasuries.
Bonds: Worries about European sovereign debt continued to weigh on U.S. Treasuries. The yield rose to 1.75% from a record low close of 1.706% late Thursday. The 10-year hit an intraday record low of 1.671% on Sept. 23, 2011.
World markets: European stocks closed down. Britain's FTSE 100 (UKX) fell 1.3%, the DAX (DAX) in Germany dropped 0.6% and France's CAC 40 (CAC40) slipped by 0.1%.
Asian markets ended sharply lower on worries about Europe, a major market for Asian exports. The Shanghai Composite (SHCOMP) lost 1.4% on the day, while the Hang Seng (HSI) in Hong Kong tumbled 1.3% and Japan's Nikkei (N225) plunged nearly 3%.
Companies: Shares of Yahoo (YHOO, Fortune 500) rose following a report that the Internet portal may have reached a deal with Alibaba that would put an end to a contentious relationship.
Other social media stocks fell, including Groupon (GRPN), LinkedIn (LNKD) and Zynga (ZNGA), which saw its shares plunge more than 10%. Trading of Zynga's stock was halted two separate times.
Shares of Nasdaq (NDAQ), where Facebook listed its offering, also ended down more than 4%, while its competitor NYSE (NYX) closed up slightly.
Apparel retailer Foot Locker (FL, Fortune 500) shares spiked after the company reported better-than-expected earnings.
Shares of Salesforce.com (CRM) rose sharply too on better-than-expected earnings late Thursday.
Shares of Chinese solar energy producers Yingli Green Energy (YGE), Trina Solar (TSL) and Suntech Power (STP) declined early Friday, a day after the U.S. government announced new tariffs on Chinese solar panels. Shares of U.S. panel makers First Solar (FSLR) and SunPower (SPWR) also fell on Friday.
Currencies and commodities: The dollar was lower against the euro, the British pound and the Japanese yen.
Oil for June delivery slipped $1.08 to $91.48 a barrel.
Gold futures for June delivery rose $17.00 to $1,591.90 an ounce.