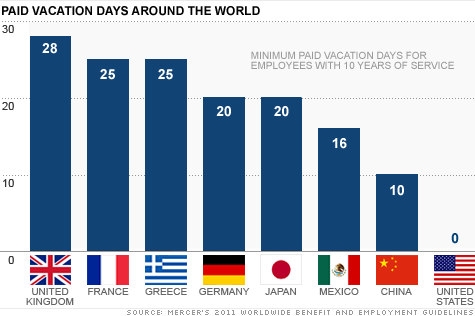 Unlike many other nations, the U.S. does not require companies to offer paid time off to workers. Americans who are offered vacation often don't take it. Click on the chart to see why.
NEW YORK (CNNMoney) -- Dubbed the "no vacation nation," the United States lags behind most other developed countries when it comes to vacation days. But Americans don't seem to mind.
Most workers don't use all their vacation days in the first place.
About 57% of working Americans had unused vacation time at the end of 2011, and most of them left an average of 11 days on the table - or nearly 70 percent of their allotted time off, according to a study performed by Harris Interactive for JetBlue.
Employers certainly aren't complaining. Separate data from financial information company Sageworks shows profits-per-employee are at a 10-year high. Could workers cramming in more hours be a factor? Yes, says Libby Bierman, a Sageworks analyst.
"We don't have exact information on why profits increased, but I think it's safe to say it's a combination of people spending more time at work and technological advancements," she said.
As companies cut back on staff during the recession, they learned how to get by with a leaner workforce and rely more on technology.
Since then, employees who saw their workloads build up over those years feel they can't afford to take time off.
One of the biggest reasons for forgoing vacation, according to a survey by Kelton Research, was workers felt they had too much work.
"I don't really have a back-up for my job," said Kyra Mancine, a catalog copywriter in Rochester, N.Y. "I worry that if I'm gone for an extended vacation, the work won't get done and I'll come back to a huge pile-up of projects. I hate coming back to hundreds of emails."
A fifth of workers surveyed also said they couldn't afford to travel.
"I can't afford to do anything when I do take time off," said Emily Harley, a marketing and media relations manager based in Helena, Ala. "It just wasn't worth the trade-off to let work back up and cause myself stress, if the only thing I could do with time off was clean house!"
And about 9% of the survey respondents said they were afraid to take time off amid an unstable job market -- not surprising when the unemployment rate is still above 8%.
Unlike most other developed countries, U.S. law doesn't require companies to offer paid vacation time to their employees.
The United Kingdom for instance requires employers to give at least 28 vacation days. In Finland, France and Greece, the minimum is 25. In Germany and Japan, it's 20.