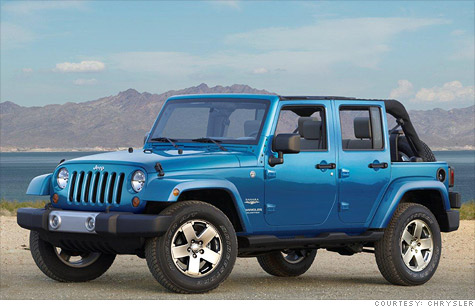 A skid plate in some 2010 Jeep Wranglers can catch debris which can catch fire.
NEW YORK (CNNMoney) -- Chrysler Group is recalling about 68,000 Jeep Wranglers in the U.S. for a problem that has lead to fires in some cases.
In 2010 Wranglers with automatic transmissions, a skid plate -- a metal plate located under the transmission -- can trap debris. Due to a change in the exhaust system for 2010 models, the skid plate is close to the vehicles' catalytic converter.
The catalytic converter is a part of the exhaust system that removes harmful chemicals from exhaust fumes and, when a vehicle is driven, it gets extremely hot. In these Jeeps, the heat can ignite trapped debris causing a fire.
Wranglers built for subsequent model years don't have this problem because, as a weight-saving measure, Chrysler switched from skid plates to lighter skid bars that do not trap debris this way.
The National Highway Traffic Safety Administration had been investigating reports of Jeep Wrangler fires. In a letter to NHTSA, Chrysler acknowledged at least 14 reports of fires.
To fix the problem, Wrangler owners will be asked to bring their vehicles to a Jeep dealership to have the skid plate replaced with a skid bar. Owners will be notified as soon as parts are available to make the change.