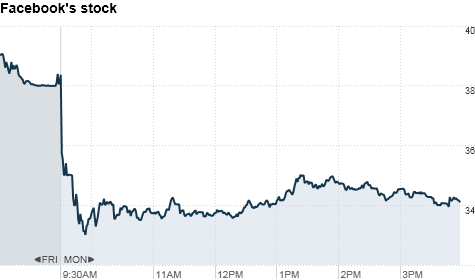 Click the chart for more on Facebook's stock.
NEW YORK (CNNMoney) -- Facebook's stock slid below its offering price in morning trading on Monday and ended the day below that level, following a lackluster debut day.
Facebook (FB) fell as low as $33 in the first half-hour of trade, but it closed at around $34.03 on Monday. That's down 11% from Friday's $38.23 closing price.
Though Facebook was one of the most highly anticipated initial public offerings in recent memory, the stock closed with a gain of just 23 cents on Friday after trading was delayed.
Shares barely breached $42 at their peak on Friday -- which came at the start of trading -- and spent most of the day floating between $40 and $42 each.
More than 80 million shares changed hands in the first 30 seconds of trading on Friday. Volume spiked to about 567 million shares by the end of the session, setting a new volume record for IPOs.
"When some people didn't see a pop on day one, they got out," said Nathan Drona, a senior vice president of equity research at ABR Investment Strategy.
That rapid sell off was reflected in the intense volume levels that continued on Monday. Nearly 168 million shares changed hands during the trading day.
The social media site set its final IPO price late Thursday, pricing its shares at $38 apiece. That price was set by a consortium of 33 underwriters led by Morgan Stanley (MS, Fortune 500), along with JPMorgan Chase (JPM, Fortune 500) and Goldman Sachs (GS, Fortune 500).
Robert Greifeld, the chief executive of Nasdaq OMX, said he was "embarrassed" by the technical glitches that caused the stock's debut to be delayed.
The glitch reportedly kept some traders from knowing for more than two hours whether their orders had been completed or canceled, leading some pundits to wonder whether the delay eroded Facebook's debut.
To prevent a repeat of such delays, Nasdaq said Monday that it has tweaked its IPO process and will no longer accept last-minute changes to orders for shares of an IPO.
Drona, the ABR analyst, said he had expected an initial pop of Facebook's shares. But the current trading level is already near his price target of $31 to $33 per share. He cites Facebook's lack of mobile revenue as a major downside to the stock.
"Facebook has said they're working on it, and [critics] seem to have a great deal of confidence that they'll nail it," Drona said. "But they don't have a model in place right now. Without a solid plan, you don't know how you're going to make money on a large part of your user base. And that's a concern."
Meanwhile, other newly public tech companies also took a dive on Friday, including Groupon (GRPN) and LinkedIn (LNKD). Zynga (ZNGA), the maker of FarmVille and other games that are played mostly on Facebook, plunged more than 10% on Friday.
Groupon recovered its losses and then some on Monday, gaining about 7.6%. Zynga and LinkedIn each extended their losses.