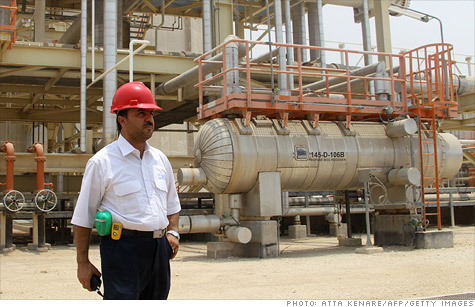 Many analysts think Iran could double its oil output to nearly 7 million barrels per day. The catch is lifting sanctions.
NEW YORK (CNNMoney) -- As Iran continues to grapple with the West over its nuclear ambitions, experts say the nation could double its already sizable oil output if sanctions were lifted to allow foreign investment into its oil industry.
Iran currently produces around 3.4 million barrels of oil a day, according to the U.S. Energy Information Administration. That makes it the world's sixth-largest oil producer.
But sanctions were tightened after Iran refused to grant international inspectors full access to its nuclear facilities.
Iran -- a signatory to the Nuclear Non-Proliferation Treaty -- says its nuclear program is for peaceful purposes, but many suspect it's intended to produce a weapon.
If the current sanctions were lifted to allow foreign capital and knowledge into Iran, the country could boost oil production significantly.
"Iran could double its oil production if the right investments are made," said Nansen Saleri, a Turkish-born former head of oil field management for Saudi Aramco who now runs the Houston-based oil consultancy Quantum Reservoir Impact"
Saleri's extensive knowledge and contacts in the region make him well placed to evaluate Iran's oil assets. And he's not alone in his opinion.
"The discoveries there have been huge," said Manouchehr Takin, an analyst at the Center for Global Energy Studies in London who worked in Iran's oil industry before the 1979 revolution. "Billions of barrels have been added in the last few years."
Most of these new discoveries are close to Iran's existing oil fields on the western side of the country, near the Iraq border.
One of the biggest new fields is known as Azadegan. It's thought to contain 5 to 6 billion barrels of recoverable oil -- more than twice what Alaska's North Slope was originally thought to contain.
The field was slated to be developed by a Japanese company until recent sanctions forced the Japanese out.
Irans oil riches: At 137 billion barrels, Iran has the world's fourth largest supply of proven oil reserves -- more than twice the size of Russia's. Yet Russia produces around 10 million barrels a day, nearly three time as much as Iran.
The problem with Iran is that much of its oil equipment is old, and drilling new wells has been slow, due to years of sanctions and underinvestment.
What's needed is more drilling, pipelines, compressors, and a variety of other equipment. Also needed is the money to buy it, and the expertise to operate it most effectively.
"They could certainly produce more than they do now, said Bob Tippee, editor of the Oil and Gas Journal. "But they need international partners to bring money and know-how."
Any of the big oil firms would jump at the chance to invest in Iran -- Exxon Mobil (XOM, Fortune 500), BP (BP), Royal Dutch Shell (RDSA), as well as the companies that specialize in oil field optimization like Halliburton (HAL, Fortune 500) and Schlumberger (SLB).
The problem is western sanctions prevent these companies from investing in Iran.
As long as the country remains locked in a heated dispute with the West over its nuclear program, further investment seems unlikely.
Not everyone agrees that Iran could boost its output, though, even if the sanctions were lifted.
All of Iran's fields have now been identified, said Fereidun Fesharaki, a former energy advisor to Iran's prime minister before the revolution who now heads the consultancy Facts Global Energy. Plus, Iran is seeing big declines in its current oil field production due to natural forces.
"In the best circumstances, Iran cannot increase their production above 4 million" barrels per day, said Fesharaki. Anyone who thinks otherwise is "smoking something."
Editor's Note: An earlier version of this article mischaracterized a comment by Nansen Saleri of Quantum Reservoir Impact regarding regime change in Iran. That comment has been removed.