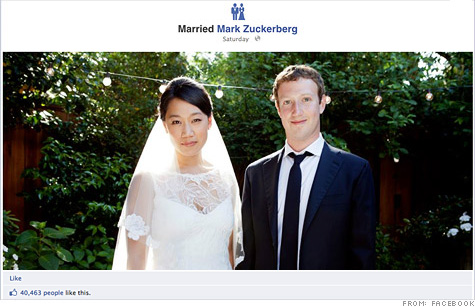 NEW YORK (CNNMoney) -- Mark Zuckerberg's marriage to his longtime girlfriend, Priscilla Chan, one day after he became one of the richest men on the planet may have seemed oddly timed. But, according to divorce lawyers, it was spot on.
As Facebook's (FB) co-founder and largest shareholder, Zuckerberg is now worth about $20 billion. And while there's no word yet whether the couple signed a prenuptial agreement, Zuckerberg's fortunes are still largely protected.
That's because California is a community-property state. In the event of a divorce, spouses are entitled to half of everything earned during the marriage, Any assets and income owned prior to saying "I do," however, remain separate, according to Ronald Anteau, a matrimony attorney in Beverly Hills and partner at law firm Kolodny & Anteau.
Since the couple wed -- in a surprise ceremony billed as a med school graduation party for Chan -- the day after Facebook went public, anything Zuckerberg earns on his stock is considered solely his property should the couple one day divorce.
A spokesperson from Facebook was unavailable for comment.
"The fact that he got married does not change that property from separate to marital under California law," Anteau said.
Despite any increase in the value of Zuckerberg's shares in the future, they will remain separate property unless he combines it with the couple's other assets, Anteau added. As long as the money isn't deposited into a joint bank account, for example, it will be considered his alone, according to California law.
Zuckerberg's Facebook options are a different story, however. Although he already exercised 60 million of his 120 million stock options in conjunction with the IPO, he is still sitting on the other 60 million. At the offering price of $38 a share, he could net about $2 billion when he exercises those options down the road. (Facebook is currently trading about 10% below the IPO price.)
Depending on when the options were granted and when they will be exercised, there is now a community property interest, which means that, as his wife, Chan could stand to benefit substantially if Zuckerberg makes another bundle on those options in the future.
Unless, of course, there is a prenuptial agreement in place safeguarding his Facebook fortune, which Anteau says is likely.
"If he came in to see me, there's no question he would be getting a premarital agreement," he said.
Those legally-binding contracts, which are drawn up by an attorney, protect each person's assets and determine support obligations in the case of a split. They can be particularly valuable if the division of wealth between a couple is grossly uneven prior to the marriage, according to New York matrimony attorney Barry Slotnick, who represented Melania Trump in her prenuptial agreement with Donald Trump.
Billionaire or not, Lauren Lyons Cole, a certified financial planner in New York, recommends that all couples talk openly about money before tying the knot. Prenups get a "bad rap" she said, but they can open the door to a lot of necessary conversations.
Correction: An earlier version of this story incorrectly reported Priscilla Chan's first name.