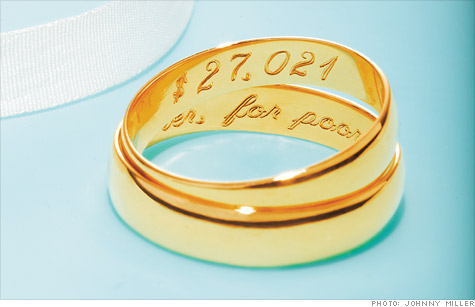 The average cost of a wedding is now north of $27,000, according to the Knot.com.
(MONEY Magazine) -- You may be thrilled that you or your child has found The One, but you could be forgiven for worrying about The Cost.
The average total price tag for a wedding last year topped $27,000, reports TheKnot.com, marking the first uptick since 2008.
Expect the expense of getting hitched to continue upward, reflecting both rising financial confidence among couples and their parents and rising prices for wedding essentials -- everything from gold and platinum to hot hors d'oeuvres.
Wedded bliss for less
The place: Since the venue (including food) amounts to 45% of average costs, look for nontraditional, cheaper locales: a historic building, perhaps, or a civic garden, says wedding how-to author Sharon Naylor.
A caterer should get you a deal on table and chair rental.
The people: Slash that guest list.
Each table for 10 you cut saves you more than $1,400, according to TheKnot.com.
"No law says you have to have six bridesmaids and invite all your co-workers and cousins," says Alan Fields, co-author of "Bridal Bargains."
Do you know a Money Hero? MONEY magazine is celebrating people, both famous and unsung, who have done extraordinary work to improve others' financial well-being. Nominate your Money Hero.