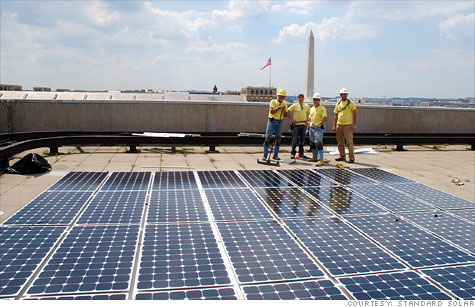 Standard Solar, a Maryland-based solar panel installer, has seen sales double each year, but its CEO fears new tariffs on imported Chinese panels could slow the company's growth.
NEW YORK (CNNMoney) -- A move designed to punish Chinese solar panel makers that charge unfairly low prices in the United States could, ironically, end up hurting American-based solar panel installers, a fast-growing sector of the green economy.
Last week, the Department of Commerce announced it would impose punitive tariffs as high as 250% on panels imported from China after finding that Chinese companies have been "dumping" them at prices below production costs.
But many installation firms in the United States rely on lower-priced Chinese-made solar panels, and say the tariffs will hit their businesses hard -- potentially increasing their costs, hurting demand for their services, and stalling their hiring plans.
For Maryland-based Standard Solar, a residential and commercial installer of solar panels, the ruling couldn't have come at a worse time. The company's sales have been doubling every year, reaching $75 million last year, and its staff has grown from three in 2007 to more than 100 today.
That type of growth isn't unusual in the $8.4 billion industry. There are now 2,200 U.S. firms that put in solar panels, and installations surged 109% last year, according to the Solar Energy Industries Association. Fueling this boom is a 30% tax credit on solar installations, as well as an overall decline in solar panel prices.
At Standard Solar, CEO Tony Clifford wants to keep his firm's momentum going, but worries that his Chinese suppliers now will raise their prices to offset the new tariffs. If that happens, Clifford said he'd be forced to raise his own prices to customers, a move that could cost him new business.
"We're growing fast partly because prices for solar modules have been going down," he said. "And that's brought down our overall business costs."
Standard Solar was looking to hire up to 25 new workers this year to handle the business pickup. But for now, those plans are on hold, until he sees how his suppliers respond to the tariffs.
Demand for his firm is "very price-sensitive," he said. "If I can't meet my costs, I'm in trouble. But if I raise my prices, it will hurt both my [residential and commercial] business."
A Chinese-made solar panel with 220 to 240 watts of power generally sells for $165 to $196, while an American-made one with 240 to 260 watts costs $240 to $288, said Steve Ostrenga, CEO of Helios Solar Works, a Milwaukee-based manufacturer. An 1,800-square-foot house typically requires between 12 and 20 solar panels, he said.
Between materials and labor, putting solar panels on a house costs installers $20,000 on average, estimates Shyam Mehta, an analyst with GTM Research. The new tariffs could increase these costs by 10%, said Mehta.
The prospect of higher costs worries Jeff Wolfe, CEO of groSolar, a Vermont-based firm that installs commercial solar panel systems.
If his Chinese suppliers increase their prices, that could eat into his profits.
His hiring plans are now in flux. "We have a few job openings right now but I'm rethinking them," said Wolfe.
Wolfe's also concerned that if he's forced to raise his prices, he could lose out on new projects, which bring in $5 million to $15 million each on average.
"These tariffs mark a very sad day for the industry," said Wolfe, who's been in the field for 14 years.
Mehta, the analyst, said new tariffs might indeed temporarily slow homeowners' and businesses' demand for solar panels, but that prices would eventually adjust and the industry would continue to grow.
Calling current demand for solar panels "really strong," Mehta added, "I don't think these tariffs will hold back that trend."
Meanwhile, U.S. solar panel manufacturers are cheering the tariffs. Ostrenga, whose company is one of 600 American manufacturers of solar modules, said the trade action is necessary.
"These tariffs were needed to protect American manufacturers," said Ostrenga. Chinese competitors had captured 60% of market share in the $2.8 billion solar panel manufacturing sector in just a few years, he said, because they were unfairly undercutting American companies on prices.
"This situation was unsustainable," said Ostrenga. "It was hurting us. We couldn't compete. It had to be fixed."
Did you start a business in a dangerous place? Not everyone goes to Main Street U.S.A. to fulfill their entrepreneurial dreams. Have you launched a successful business in a violent neighborhood? A hostile foreign land? A war zone? Or even just somewhere very remote that's hard to get supplies to? Tell us about it and you could be featured in a future CNNMoney story.