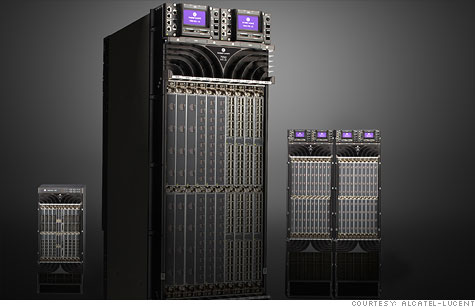 Alcatel-Lucent's new 7950 XRS core router can stream 2.5 million HD videos every second.
NEW YORK (CNNMoney) -- In a world where we're constantly connected and video sucks up an ever-growing chunk of precious bandwidth, Internet service providers are getting desperate for ways to crank up their speed.
Networking challenger Alcatel-Lucent (ALU) is about to give them what they want.
The company announced Tuesday that it has developed the "7950 XRS," a core Internet router that is capable of speeds up to five times faster than those of its nearest competitor. Just one 7950 XRS router can deliver 16 terabits of data per second. That's about 2.5 million HD video streams every tick of the second hand.
It's roughly five times faster than the CRS-3, networking giant Cisco's latest and greatest core router, which debuted in 2010.
Core routers sit at the epicenter of the Internet, serving as the traffic cops at the biggest intersections on the busiest data highways. They direct huge amounts of traffic, connecting visitors' requests to sites like Google (GOOG, Fortune 500), Netflix (NFLX) or CNNMoney and sending data back to the right place in return.
It's a crucial part of the Internet backbone, but it's a market in which Alcatel-Lucent hasn't participated until now. Cisco (CSCO, Fortune 500) and Juniper (JNPR) are by far the two largest players in core routing. Few have challenged them since the dawn of the Internet.
"Alcatel-Lucent faces a big challenge," said Michael Howard, principal analyst and co-founder at Infonetics Research. "It is hard for service providers to change or add new products and new vendors in any critical area, and core routing is a critical area."
But if history is any guide, Alcatel-Lucent has a shot at making a serious dent in Cisco's market share. In 2003, the company began challenging Cisco and Juniper in "edge routing," which take individuals' requests and sends them to core routers. Think of edge routers as the on-ramps to the information superhighway.
Starting from a customer base of zero, Alcatel-Lucent now controls 24% of the market, surpassing Juniper as the No. 2 vendor in edge-routing last year and bringing in $2 billion in revenue.
Core routing is a $4 billion a year business. Alcatel-Lucent wants a piece of it.
"Service providers know us now, and they trust us," said Basil Alwan, president of IP networks at Alcatel-Lucent. "Most customers don't want to be bothered with a new system unless there's a meaningful benefit. But this is an inflection point, allowing our customers to stay ahead of demand."
Those potential customers include not only the AT&Ts (T, Fortune 500) and Comcasts (CMCSA) of the world, but also operators of the vast fiber networks that form the backbone of the Internet, like Level 3 (LVLT).
Analysts say huge data center operators like Apple (AAPL, Fortune 500), Microsoft (MSFT, Fortune 500), Amazon (AMZN, Fortune 500) and Google may also take a close look.
Alcatel-Lucent touts its 7950 XRS router as not just being faster, but also 66% more power efficient than its rivals and far more intelligent. Alcatel-Lucent's technology knows to treat video traffic differently than clicks on a Web page, for instance. Videos need sustained high bandwidth, because users notice lags in the network -- unlike websites, which typically only need bandwidth when a user clicks on something.
The new router still has to undergo real-world customer tests, but early indications are that it's generating some serious interest.
Ihab Tarazi, head of transport planning at Verizon (VZ, Fortune 500), plans to do some tire-kicking.
"Platforms such as the Alcatel-Lucent 7950 XRS will help us efficiently scale to support higher speeds and new capabilities," he said.
Cisco currently controls 54% of the core routing market, but industry analysts widely expect Alcatel-Lucent to eat into that share. Stuart Jeffrey of Nomura Securities even believes the company will take 10 percentage points away from Cisco and 4 percentage points from Juniper by 2014.
Either way, the vendors' speed race should pay off for consumers. We'd all love to see fewer buffering errors when we're sucking down Netflix and Hulu streams.