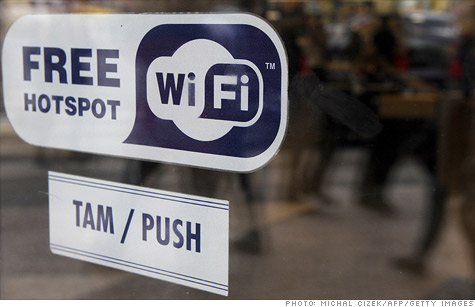 NEW YORK (CNNMoney) -- If you buy Internet access through your cable provider, your subscription is about to get much more mobile.
Five of the nation's largest cable providers, including Comcast (CMCSA), Time Warner Cable (TWC, Fortune 500), Cablevision (CVC, Fortune 500), Bright House and Cox, announced on Monday that they will allow customers of any of the other four services to use their free Wi-Fi hotspots when traveling outside their home network area.
So, for example, when a Cox subscriber in Cleveland travels to Philadelphia, they can use a Comcast Wi-Fi hotspot for free.
Over the next few months, the five companies will open up their 50,000 Wi-Fi hotspots across the country to competitors' customers. In out-of-network areas, users will be able to log on to hotspots labeled "CableWifi."
It's not launched yet, but the companies are working on technology that will store users' credentials so their customers can be automatically logged in.
The cable providers' partnership is similar to how cell phone carriers allow their customers to roam on other networks when traveling. That's intentional: The cable companies say they are looking to compete with mobile carriers' new 4G networks that make broadband-like speeds available everywhere.
"We believe that WiFi is a superior approach to mobile data," Kristin Dolan, Cablevision's head of project management, said in a prepared statement. "Cable providers are best positioned to build the highest-capacity national network offering customers fast and reliable Internet connections when away from their home or business broadband service."
The partnership expands upon a 2010 agreement reached by Comcast, Cablevision and Time Warner Cable to allow their rivals' customers to roam on each others' networks of Wi-Fi hotspots. That deal was limited to the Northeast.
With Bright House and Cox added to the mix, the network now has hotspots in New York, Los Angeles, Tampa, Orlando, Philadelphia and parts of New Jersey and Connecticut.
The cable operators said they will continue to increase the number of available hotspots, particularly in high-traffic locations such as parks, beaches, shopping areas, malls, cafes, restaurants, and sporting and concert arenas.
Wireless carriers are increasingly relying on Wi-Fi technology to help offload traffic from their oversubscribed networks, particularly in crowded areas. Though many carriers are aggressively deploying Wi-Fi hotspots on their own, cable companies would like a piece of the action.
But new "small cell" technology may give carriers an edge on their rivals.
A new standard called "Passpoint" coming this summer from the Wi-Fi Alliance governing body will allow carriers to automatically switch customers to their Wi-Fi hotspots in crowded areas, without requiring any authentication from the user. That kind of seamless transition will make Wi-Fi a much more appealing option than it is currently for cellular customers.