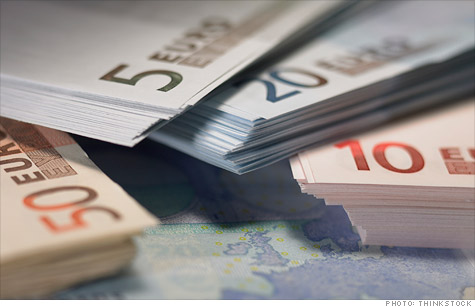 OECD warns that debt problems in Europe are the greatest risk to uneven, fragile growth around the globe.
NEW YORK (CNNMoney) -- Europe's sovereign debt crisis risks derailing the global economic recovery, the Organization for Economic Cooperation and Development warned Tuesday.
The OECD issued the warning as it also cut its economic outlook for the eurozone this year. It now forecasts a decline of 0.1% in the 17-nation block that uses the common currency; it previously had expected growth of 0.2%. It also cut its forecast for 2013 growth, to 0.9% from 1.4%.
The OECD was particularly concerned that problems with sovereign debt in Europe have become a significant threat to growth around the world.
"The crisis in the eurozone remains the single biggest downside risk facing the global outlook," said Pier Carlo Padoan, chief economist for the OECD.
The global economic recovery remains fragile and extremely uneven across different regions, according to the OECD, a multinational research body.
Growth in emerging economies, which have been the engine of the global recovery, has slowed, the OECD said, while growth in more developed economies is likely to remain modest.
Overall growth for the developed economies that make up the OECD is now forecast at only 1.6%, down from the 1.8% forecast in 2011.
The eurozone didn't grow at all in the first quarter, as both it and the broader 27-nation European Union teetered on the edge of recession. Eleven European nations have already suffered declines in their gross domestic product for two or more consecutive quarters, the common definition of a recession.
The outlook was brighter for the U.S. The OECD forecast 2.4% growth for 2012, up from the 2.0% it forecast last fall. The U.S. achieved 1.7% growth last year.
Fears about the eurozone debt crisis have heated up in recent weeks, after Greek voters denied the ruling coalition enough votes to form a new government. That's thrown austerity measures approved as part of a European bailout of Greek debt into doubt, and raised the risks Greece could leave the eurozone.
But while sovereign debt gets much of the attention from political and economic leaders, high levels of consumer and business debt are also putting a cap on worldwide growth.
"This is a global crisis which is largely a debt crisis," said Padoan. "It is a result of excessive debt accumulation in both the private and public sectors. One can not safely say we're out of the crisis until debt comes down to more manageable levels."