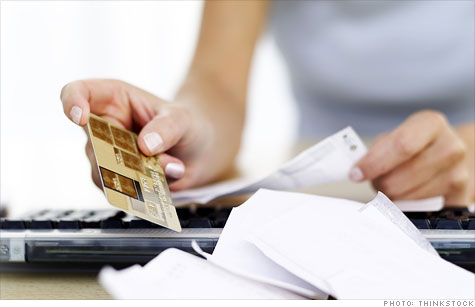 NEW YORK (CNNMoney) -- The economy may be growing again, but many U.S. consumers are still in a cash crunch.
In the past year, 40% of low- and middle-income households used credit cards to pay for basic living expenses, such as rent or mortgage bills, groceries, utilities, or insurance, according to survey released Tuesday by think tank Demos.
Years of stagnant income growth combined with increases in basic living costs, including gas prices, are forcing some Americans to fall back on a "plastic safety net," said Amy Traub, senior policy analyst for the organization.
Demos released the survey on the third anniversary of Credit Card Accountability, Responsibility and Disclosure Act, which imposed new rules and regulations on credit cards issuers, including limitations on fees, interest rates and penalties and better billing and account disclosures.
"The Credit Card Act clearly didn't solve the underlying problem of households needing to rely on debt to make ends meet," she said.
The CARD Act put a serious crimp on the industry's ability to raise rates and impose fees, prompting credit card companies to tighten credit requirements. Fewer new cards were issued and existing lines of credit were scaled back, causing many households to rein in their credit card spending.
Over the past three years, 39% of the households surveyed said they had their credit tightened, either by having cards canceled, credit limits reduced, or being denied a card when applying, Demos found.
During that time, credit card debt has declined but hardly disappeared.
Among low- and middle-income households, credit card debt averaged $7,145 in early 2012, down from $9,887 in 2008, Demos found.
A similar report by credit card tracking site CreditKarma.com that included data from more than 300,000 consumers of all income levels found that the average credit card balance for 2011 was $6,576, down from $7,404 a year earlier.
Since January, however, the total amount of credit card debt has rebounded slightly, particularly among the low- to moderate-income population, said Travis Plunkett, legislative director of the Consumer Federation of America.
"The old rule of thumb is that you want to use credit to invest in education or buy something that will help you in the future, not for necessities or expendable items like groceries," he said.
Overall, revolving credit, which includes mostly credit cards, was $803.63 billion in March, up $5.18 billion from the month before, according to the latest data by the Federal Reserve.
Demos surveyed nearly 1,000 low- and middle-income American households in February and March who had credit card debt for three months or more.
Has your employer slashed your health care coverage, 401(k) match, holiday bonus or annual raise? If so, please email jessica.dickler@turner.com with a brief description of your story and you could be included in an upcoming article.