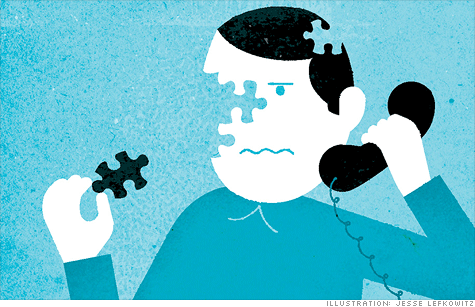 When identity theft is just a possibility, place a fraud alert. If you're a victim, consider freezing your credit.
(MONEY magazine) -- If your wallet gets stolen or you've been caught up in a data breach -- as in April, when hackers grabbed 1.5 million credit card numbers -- you can protect against identity theft by contacting one of the big three credit bureaus, which are required by law to place a fraud alert on your report.
But dealing with the credit bureaus isn't easy. A recent Federal Trade Commission report found major complaints about Equifax, Experian and TransUnion included long waits to reach live help, failure to send required free credit reports, and unwelcome sales pitches for monitoring services.
Placing a fraud alert also suffices when identity theft is just a possibility.
If identity theft a reality, though -- say, someone's using your credit card -- take stronger measures, such as freezing your credit.
A monitoring service may also make sense, but hold off on signing up when notifying a credit bureau.
"Don't make a decision when you're at your most fearful," says FTC attorney Tony Rodriguez.
One alternative: Insurers including MetLife offer a year of free monitoring for homeowners and auto insurance customers.
Identity theft victims get spotty help
Was it easy to reach a live person at credit bureaus?*
61%: Yes
36%: No
Did the bureaus give you a free credit report?
51%: Yes
11%: No
33%: Some did
Did you get a notice of your ID theft victim rights?
45%: Yes
27%: No
* "Don't remember or not sure" responses omitted.
Source: Federal Trade Commission "Using FACTA Remedies" report, March 2012.
Do you know a Money Hero? MONEY magazine is celebrating people, both famous and unsung, who have done extraordinary work to improve others' financial well-being. Nominate your Money Hero.