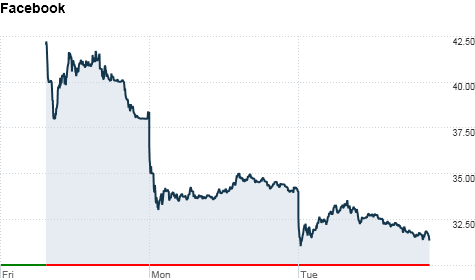 Facebook's shares are down nearly 18% from its IPO price since it started trading on Nasdaq Friday.
NEW YORK (CNNMoney) -- Facebook's stock has plunged nearly 18% from its IPO price, but it's not simply a case of investors disliking the company.
Facebook has attracted a rash of stock flippers -- investors who quickly buy and sell a stock in the hopes of making a quick profit.
"It's a day trader's paradise right now. There's high volatility and high volume," said Douglas DePietro, managing director for sales trading and trading execution at Evercore Partners.
While volatile, frenetic trading is not unusual in the first few days after a large IPO, in the case of Facebook (FB), both the overall trading volume and Nasdaq's problems executing trades amplified the moves.
Nasdaq (NDAQ) couldn't keep up with the demand, which led to a delayed opening. Because of glitches in Nasdaq's system, many investors didn't even know if their trades had gone through for hours.
Facebook also increased the number of shares offered in the IPO to 421 million from 337 million just two days before Zuckerberg & Co. rang the opening bell last Friday.
Increasing the size of the offering meant that typical buy-and-hold investment funds got more shares than they expected, so they were likely offloading their excess.
And the underwriters divvied up a larger amount than normal to hedge funds that are known to sell shares immediately, said several market participants.
On top of that, individual investors got a larger share of the pie. They received roughly 25% of the shares, rather than the typical 20%. These investors were quickly spooked by the Nasdaq glitches and the failure of the stock to live up to the pre-IPO hype. That caused many of them to quickly shed their stakes.
DePietro said that, as of Tuesday, a large portion of the buy and sell orders came from brokerage firms that cater to small investors.
These factors led to record trading volume in Facebook's stock on its opening day, and a much slimmer base of buy-and-hold investors.
"Volatility breeds speculation," said Joe Saluzzi, co-head of trading at Themis Trading. "There are a lot of short-term flippers hanging around now."
Additionally, Morgan Stanley (MS, Fortune 500) significantly raised Facebook's offering price to $38 from an initial range of $28 to $35. When the stock opened at $42, more investors were tempted to sell for a quick profit.
"Investors were seeing that the deal was priced to perfection," said DePietro.
That means that the pop might not have been as extreme as it was with other hot tech IPOs, so many investors wanted to get out right away.
Much of the extreme volume and volatility is expected to subside in the next few days, and investors should have a better sense of the trading range following the Memorial Day holiday weekend after most short-term traders exit the stock.
Still, it may take some time to unwind the confusion caused by Nasdaq's trading glitch. One of DePietro's clients was a fund that tried to sell at $42 right when the stock opened. Nasdaq didn't execute the trade at that price, and now both Evercore's trading team and his client are waiting to what Nasdaq plans to do next.
"Investors are basically helpless right now as they wait for Nasdaq," said DePietro. "Everyone I know in the investment community is completely irate now at Nasdaq. they just feel like they got totally shafted and it's a black eye for the markets in general."
Facebook and Nasdaq declined to comment for this story. Morgan Stanley did not return requests for comment.