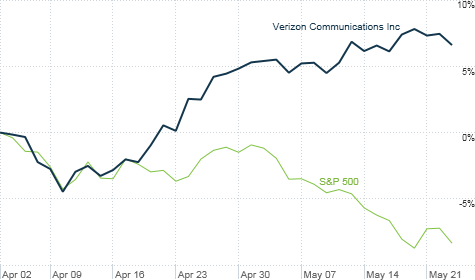 Safer stocks with big dividend yields like Verizon have outperformed the broader market since Europe fears resurfaced about a month ago.
NEW YORK (CNNMoney) -- Europe's debt woes got you down? Looking for a safe place to hide in this increasingly ugly market?
Treasuries may be stable. But with the 10-year yielding a paltry 1.71% -- barely above the all-time low from last year -- your income gets eaten up by even the currently meager rate of inflation. Gold? It's tanked along with stocks. And so much for Facebook (FB) being a 'can't miss investment.'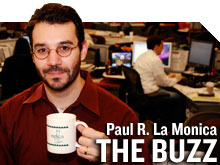 But investors willing to play some defense and move money to blue chip, dividend paying stocks may be rewarded. They already have been for the past few weeks.
AT&T (T, Fortune 500) and Verizon (VZ, Fortune 500) have been among the better performers in the market since stocks hit their peak for the year in early April. It's no coincidence that both companies pay dividends that yield around 5%.
It's also worth nothing that the Dow Jones Utility Average (DJU) has gained ground since the start of April, even as the broader market has fallen. Big electric companies like Consolidated Edison (ED, Fortune 500), Duke Energy (DUK, Fortune 500) and Dominion Resources (D, Fortune 500) all have dividends that yield more than 4%.
"It's a challenge to invest with macro concerns playing such a part in dictating the daily swings of the market," said John Carey, manager of the Pioneer Equity Income Fund (PEQIX) in Boston. "Utilities were under pressure earlier this year when people went back into 'risk-on' mode. But lately, it's been more of a 'risk-off' market."
Carey's fund owns Duke and ConEd, according to the fund's most recent filings. Carey said he also thinks there are attractive opportunities in health care -- another sector known for high yields. The fund owns big pharmaceutical funds Pfizer (PFE, Fortune 500) and Merck (MRK, Fortune 500).
He added that even some banks (yes, banks) could be attractive for their dividend. But Carey said that investors should stick to the more conservative financial firms.
Along those lines, one of his fund's top holdings is U.S. Bancorp (USB, Fortune 500). That bank is widely acknowledged as one of the best-run of the major regional banks. It's a favorite of Warren Buffett's Berkshire Hathaway (BRKB) too and pays a dividend that yields 2.5%.
The shift to income is likely to continue as long as fears of a Greek exit from the eurozone remain in the headlines.
"Dividend stocks are more attractive than Treasuries right now. And with the increased market volatility, more money may gravitate that way," said Chip Cobb, senior vice president and portfolio manager at Bryn Mawr Trust in Bryn Mawr, Pa.
Cobb noted though that dividends don't have to be synonymous with stodgy, defensive industries. He said his firm owns big dividend payers in the tech sector like Microsoft (MSFT, Fortune 500) and Intel (INTC, Fortune 500). And he added that once Apple (AAPL, Fortune 500) begins to pay a dividend later this year, its yield will be nearly 2% (based on current market prices.
Craig Callahan, co-founder and president of ICON Advisers in Denver, added that another positive for dividend payers is that shares of many companies that pay dividends lagged the broader market at the start of 2012 when investors were pushing the riskiest stocks higher.
So many high-yielding stocks, like consumer companies McDonald's (MCD, Fortune 500) and Coca-Cola (KO, Fortune 500) for example, may now be good values, in addition to offering a secure quarterly payout.
"I much prefer equities with dividends over bonds and growth stocks at this point," he said. "Health care and consumer staples stocks look like the best bargains and may become market leaders."
But one word of caution when looking at dividends. You should only invest in dividend payers that are also growing and have a strong enough cash position to keep paying it.
A high yield can be a sign of trouble since a yield will rise when a stock price is falling. And a nice yield is meaningless if a company decides to kill the dividend. That's exactly what struggling retailer J.C. Penney (JCP, Fortune 500) did last week.
"There are a lot of companies where the yield is only going up because the stock is down so much," said Cobb. "Fortunately, there are plenty of companies with terrific balance sheets with yields far above Treasuries."
The Buzz is moving! CNNMoney is launching a brand new Investing section! And as part of that, The Buzz is morphing into a blog.
I will still write a daily column in the blog as well as several shorter posts, including a standalone that will highlight the Best of StockTwits. But what's most exciting about the new Buzz is that it will also feature blog posts from all my colleagues on our Investing team about what's moving in the markets.
The opinions expressed in this commentary are solely those of Paul R. La Monica. Other than Time Warner, the parent of CNNMoney, and Abbott Laboratories, La Monica does not own positions in any individual stocks.