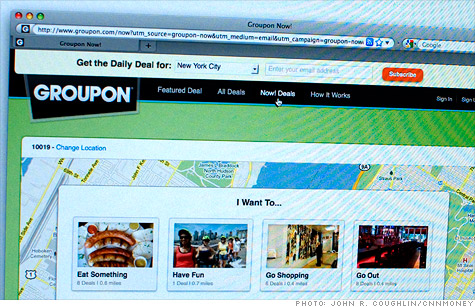 The expiration date lawsuit against Groupon alleges, among other things, that the company imposed illegal deal restrictions that violate gift-card laws.
NEW YORK (CNNMoney) -- If you've ever bought a Groupon, you might be getting an email this week about a class-action lawsuit involving the expiration dates on the company's daily deals.
Groupon (GRPN) has settled the case and will pay a proposed $8.5 million in cash to do so -- but, as with many class-action suits, a good chunk of that money will go to the lawyers. Customers will likely take home mere pennies.
Seventeen Groupon subscribers each filed individual lawsuits over the past few years about expiration dates on Groupon's deals and how the company sold or advertised those deals.
The suits allege, among other things, that Groupon imposed illegal and undisclosed deal restrictions -- like "must use gift certificate in one visit" -- that violate a variety of gift-card regulations. For example, a federal law makes it illegal to sell gift cards that expire in less than five years.
Those 17 lawsuits were rolled into one and transferred to California district court, where a judge certified the claim as a class action last year. That brings Groupon's entire subscriber base into the lawsuit.
Groupon settled the case last month without admit fault or wrongdoing. As part of the settlement, Groupon's merchants were released from any liability related to the claims.
The settlement: On the customer side, the settlement class includes anyone in the U.S. who bought a Groupon deal or received one as a gift from November 1, 2008, through December 1, 2011.
But what those customers will actually get remains pretty murky. The settlement's core terms appear to almost exactly mirror Groupon's own current policy on expired coupons.
Groupons have two separate values: the actual amount paid (like $20 for a voucher promising $50 worth of services at a local spa) and the promotional amount (that's the $50).
While the promotional amount carries an expiration date, Groupon's policy is that expired Groupons can always be redeemed, with any time limitation, for the amount actually paid. If the $50 spa voucher that you paid $20 for expired last month, you can still redeem it at the spa for services worth $20.
The settlement offers those who submit claims a "settlement voucher" that can be redeemed through the merchant for goods "up to the purchase price that you paid."
How it that different than what Groupon already offers? Neither side is saying.
A Groupon spokeswoman said the company "has nothing to add beyond what's in that notification" that some customers have received. Law firm Robbins Geller Rudman & Dowd, which is representing the defendants, didn't return a request for comment.
The settlement deal has one slight twist: If a merchant won't honor a settlement voucher, the customer can submit a second claim to the settlement fund and be eligible for a refund check on what they paid, plus 20% of the deal's promotional value. More details on the lawsuit are available at https://grouponvouchersettlement.com/.
Also as part of the settlement, for the next three years Groupon agreed not to sell more than 10% of its daily deals with expiration dates of fewer than 30 days. Groupon also agreed to change the language in its advertising and on its site to make restrictions clearer.
Groupon sent a letter to merchants on this week advising them of the settlement and explaining that it doesn't change Groupon's policy on expired deals. A recipient provided a copy of the letter to CNNMoney.
"All you'll be asked to do is honor the voucher for the cash value paid, not the promotional value, which has already expired," Groupon wrote. "If you've worked with us recently, this should be no surprise, as all of our vouchers can be used for their cash value in perpetuity."
Expect low payouts: Under the terms of the proposed settlement, Groupon will pay $8.5 million in cash, but a good chunk of that money will go to the lawyers. Customers could take home mere pennies.
The legal team that brought the lawsuit is asking the court to award attorneys' fees of up to 25% of the settlement cash, totaling more than $2.1 million, plus an estimated at $75,000 that is earmarked for donation to a civic or nonprofit organization.
The suit's lead plaintiffs -- the 17 Groupon subscribers who brought the complaints -- would receive a proposed $500 each. The remaining money would be split up among those who fill out a claim form and put in for their share of the settlement.
That leaves an estimated $6.3 million or so to be divided up over a class that could include millions of people. Groupon had nearly 34 million active subscribers -- people who bought at least one deal in the past 12 months -- as of Dec. 31. A spokeswoman declined to break out how many of those subscribers are U.S.-based.
If even half of Groupon's active users were to file claims, each claimant would receive a payment of around 37 paltry cents.
Groupon said in its letter to merchants that it expects only 2% of its customers to be eligible and to file for a claim. Even if that's the case, that those 660,000 claimants would receive a payout of around $9.50 each.
Groupon customers have until July 6 to file a claim if they want to be included in the settlement. The judge overseeing the case is scheduled hold a hearing in California court on July 20 about the settlement's proposed terms, after which she will decide whether to uphold or reject the deal.