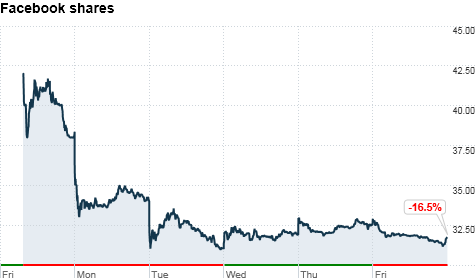 Click on the chart to track Facebook
NEW YORK (CNNMoney) -- Facebook's stock price slipped again on Friday, down more than 16% from the price of its initial public offering one week ago -- a market debut that infuriated investors and prompted a lawsuit.
Facebook (FB) closed down 3.4% to $31.90.
That's compared to its IPO price of $38 per share, which was set by a consortium of 33 underwriters led by Morgan Stanley (MS, Fortune 500). The social media site's IPO closed just a hair above that - at $38.23 - on May 18, its first day of trading on the Nasdaq.
This was one of the most highly anticipated IPOs in recent history, setting a record for trading volume, but it was also one of the most disappointing. Nasdaq flubbed the IPO by delaying the start of trading by half an hour. Also, many investors have complained to CNNMoney that their orders were not processed correctly.
In addition to that, Facebook's underwriters have been accused of granting preferential treatment to institutional investors by sharing with them negative information about the IPO that was allegedly withheld from other investors. The Financial Industry Regulatory Authority, Congress and the state of Massachusetts are looking into the allegations.
This is the basis of a class action suit from three investors against Facebook, its Chief Executive Officer Mark Zuckerberg, Morgan Stanley and other underwriters, including JPMorgan Chase (JPM, Fortune 500), Goldman Sachs (GS, Fortune 500), Barclays Capital and Merrill Lynch, a unit of Bank of America (BAC, Fortune 500).
A Facebook spokesman slammed the suit as "without merit." Spokespersons for Morgan Stanley, Goldman Sachs and Barclays declined comment. The other firms were not available.
Robert Weiser, one of the plaintiff's lawyers in the class action lawsuit, said on Friday that he was in the process of adding more investors to the suit.
One of the most common complaints from investors who contacted CNNMoney is that they didn't receive confirmation of their stock purchases until days later, and they ended up paying a higher share price than they originally thought.
Travis Campbell told CNNMoney he bought 120 shares on the day of the IPO at $40, but after the market closed, his order was listed as expired and the purchase was not withdrawn from his account.
"So I went on my merry way, happy that I wasn't bitten by the insider trading bug that helped flop the IPO," he said.
But Campbell said he received confirmation on Tuesday that the deal had actually gone through, at the original price of $40 a share. By then, the price had dropped to $32.
"I understand taking a loss," he said. "But not knowing the purchase had been made [and] then finding out days later after taking a bigger loss is what really gets me."
Did you get burned by Facebook? Please contact CNNMoney staff writer Aaron Smith.