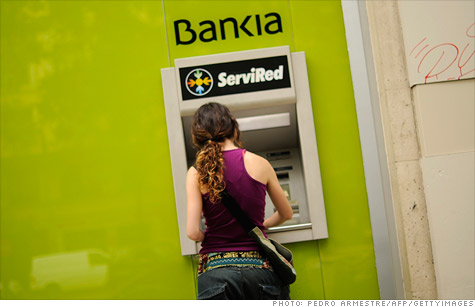 Problems at Bankia and other Spanish banks could force a European bailout of the Spanish banking system.
NEW YORK (CNNMoney) -- The Spanish banking system has taken center stage in the ongoing European debt crisis drama.
The bursting of a housing bubble that was formed by the combination of cheap credit and Spain's attractive climate has left Spain's banking system teetering under a mountain of bad loans.
Spain's central bank has identified about €300 billion in problem loans at the nation's banks.
Massive bank bailouts are clearly on the way.
Late Friday, Spain's fourth-largest bank, Bankia, asked the nation's central bank for €19 billion to recapitalize itself. Spain's central bank essentially nationalized Bankia earlier this month.
Also Friday, Standard & Poor's also cut its ratings of five Spanish, including Bankia, and said it is weighing further downgrades for another five major banks in the country. S&P had downgraded 9 out of the 10 banks just last month.
The ratings agency also upped its estimate of the underlying economic risks across Spain's entire banking industry due to Spain falling into a double-dip recession.
Bankia was formed in 2010 by combining seven major savings banks, which turned out to be among the hardest hit by the housing crisis.
Spain's banking problem might quickly become yet another thorn in Europe's side.
With Spain struggling with record high unemployment of close to 25% and government deficits that have driven borrowing costs above the 6% mark, it's not clear if the Spanish government can afford to bail out the banking system on its own.
"The situation facing Spanish banks is extremely important for the European outlook," said Andrew Milligan, head of global strategy for Standard Life Investments. "There is still quite a debate whether the Spanish government on its own can provide the necessary injection."
Spain announced another round of banking reforms earlier this month to try to shore up the banks, including a plan to have banks dump their foreclosed real estate loans into a separate independent company. But investors were not convinced and Moody's downgraded 16 major Spanish banks on May 17, including Banco Santander (STD) and BBVA (BBVA), the nation's two largest banks.
If Spain can't contain the problems in the banking system itself, it could spread across the entire European financial sector, hitting weaker banking systems such as Italy first, and eventually impacting major banks in healthier countries like Germany and France.
That fear could drive banks across Europe to pull back on lending, which could spark a deep European-wide recession and spread economic pain around the globe.
Milligan estimates the size of a Spanish bank bailout could range from €50 billion to €100 billion. The upper end of that would nearly double the size, as a percentage of gross domestic product, of the U.S. bank bailout under the Troubled Asset Relief Program in 2008.
That's why Milligan and others think that Spanish banks might need a European bailout even before Spain's sovereign debt does.
"Everyone fully understands why the markets are obsessed with Greece," he said. "But with Spain we are talking about the fourth-largest economy in the eurozone. The figures being talked about are much more significant."
Milligan said an indepedent review of Spanish banks' financial health ordered by the Spanish government earlier this month is crucial to restoring confidence in the banks. The bad real estate loans will likely have to be spun-off into some kind of "bad bank" to isolate them from the banking system.
He said Europeans are also moving closer to providing some kind of continent-wide deposit insurance system to restore the faith of customers of Spanish banks, to make sure they don't start making massive withdrawals that would further weaken the banks' cash position.
Greek customer have already started making large withdrawals there, creating what some are calling a "bank jog," adding to problems for that nation's fragile financial system.
"The last thing you want is a bank run to develop," Milligan said. "This sort of (deposit insurance) protection can stop a bank run from developing."