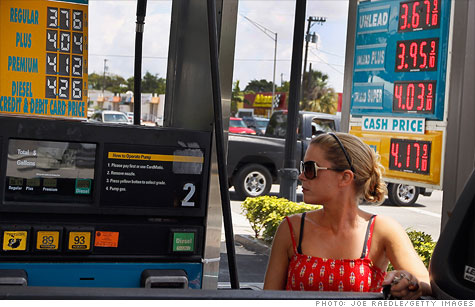 The average price of a gallon of regular gas has fallen steadily since early April.
NEW YORK (CNNMoney) -- As the summer driving season gets underway, most Americans are enjoying lower gas prices than they might have expected when the spring began.
But prices, while well off their 2012 peak set in early April, are still higher than they've been at the start of most summers.
The current national average of $3.636 for a gallon of unleaded is down about 15 cents from a year ago and 30 cents from this year's peak, according to readings from AAA. But it's still the third-highest price on record for a Memorial Day weekend, behind only 2011 and 2008.
And experts say that despite oil futures recently falling to below $90 a barrel for the first time since November recently, the steady slide in gas prices might not extend much further.
"We might move a little lower, we might move a little higher," said Tom Kloza, chief oil analyst of the Oil Price Information Service, the firm that compiles the pump price averages for AAA.
While Kloza said there won't be dynamic moves in any direction, a sharp worsening of the economic situation in Europe might cut the demand outlook, which could bring some additional price relief.
But for the most part, the 7% drop in gas prices since the start of April is probably most of the relief that drivers can hope for.
Not all drivers are seeing the break on prices that the national average would suggest. West Coast drivers are still paying close to the same price as two months ago. Tight inventories west of the Rocky Mountains have kept prices out there high -- $4.28 in California, $4.25 in Oregon, and $4.27 in Washington State.
The highest prices are in Hawaii, where drivers are paying $4.53, and Alaska, which doesn't have any refineries despite all of its oil. Drivers there pay $4.52.
But other than those Western states, no other state has drivers paying $4 a gallon going into the summer.
For the cheapest gas, go south. South Carolina has the lowest average at $3.26 a gallon. Alabama's is close, at $3.31. Drivers in Tennessee pay $3.32 a gallon while those in Arkansas pay $3.33, as do Mississippians.