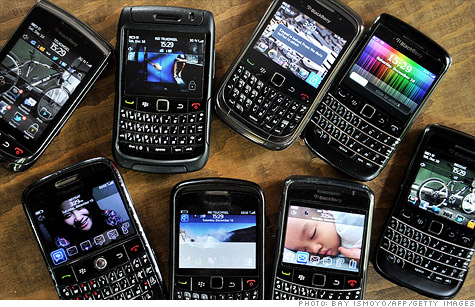 NEW YORK (CNNMoney) -- Research in Motion took another step Tuesday toward radically reshaping or selling off the company. The BlackBerry maker hired JPMorgan (JPM, Fortune 500) and RBC Capital to "review" its strategic options.
That's generally corporate jargon for putting a company on the block. RIM's new CEO Thorsten Heins said in late March that he was exploring all options for the company, including a sale.
But Tuesday's long-winded "business update" indicated the company is formally considering big moves, under the guidance of two banking giants. Shares of RIM (RIMM) fell 10% in early trading on Wednesday, dropping to a new 52-week low.
RIM acknowledged in its note that the company is "facing challenges." It also warned that its "financial performance will continue to be challenging for the next few quarters." It now expects an operating loss for its fiscal first quarter, which ends on June 2.
RIM blamed the downbeat quarterly outlook on high competition from its rivals and the prolonged transition to its long-delayed BlackBerry 10 operating system.
RIM said will provide more details during its first-quarter earnings call on June 28. In the meantime, the company reiterated its plan to save $1 billion by the end of its fiscal year 2013.
That means job cuts are coming. A Reuters report on Saturday said that up to 6,000 positions could be eliminated.
A RIM representative declined to comment on a specific figure, but the company acknowledged that its "efficiency"-focused plan will include "significant" job cuts and slashed budgets in some areas of the business. Other sectors will likely be eliminated altogether.
The prospects of a successful overhaul seem to be dimming for Heins, a RIM insider who succeeded co-CEOs Mike Lazaridis and Jim Balsillie in January -- and inherited a load of problems.
BlackBerry has fallen behind in the smartphone game: It trails Samsung, Apple (AAPL, Fortune 500) and Nokia (NOK), according to a report from IDC earlier this month.
The company is losing its stronghold in the corporate market it once dominated. Rather than receiving company-issued phones, many office workers are now bringing their own devices into work -- often Apple's (AAPL, Fortune 500) iPhone and Google's (GOOG, Fortune 500) Android devices -- and using them as their corporate smartphones.
Heins addressed some of those issues on a post-earnings conference call in March, in which he admitted RIM's problems are deeper than he'd realized.
"The impression I had after two days as CEO is very different from the facts I discovered after being here for 10 weeks as CEO," Heins said on that call. "I am convinced that substantial change is what we need."