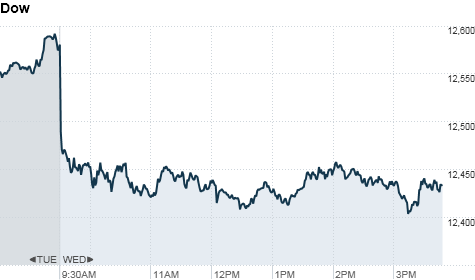 Click for more market data.
NEW YORK (CNNMoney) -- Stocks fell sharply Wednesday as worries about Europe's debt crisis, specifically the Spanish banking system, shook investor confidence.
Investors flooded into U.S. Treasuries, raising prices and pushing the yield on the benchmark 10-year note down to a record low of 1.62%.
Oil prices fell to a 7-month low amid the broad flight from risky assets.
The Dow Jones industrial average (INDU) was down 161 points, or 1.3%, to end at 12,420. The S&P 500 (SPX) sank 19 points, or 1.4%, to 1,313. The Nasdaq (COMP) declined 34 points, or 1.2%, to 2,837.
Alcoa (AA, Fortune 500), Caterpillar (CAT, Fortune 500) and Chevron (CVX, Fortune 500) were among the hardest hit as investors shunned companies in economically-sensitive industries. Bank of America (BAC, Fortune 500) was also under pressure, falling 3%. Meanwhile, investors gravitated towards stocks that pay dividends and are considered defensive, such as Intel (INTC, Fortune 500).
"Europe is definitely weighing on the market," said Bernard Kavanagh, vice president of portfolio management for St. Louis-based broker Stifel Nicolaus. "Investors continue to be very pessimistic as we move into the slow months of the summer."
The European Central Bank issued a statement Wednesday saying it had not been consulted on the bailout for Bankia, Spain's fourth-largest bank, and that such a recapitalization could not be provided by the ECB and eurozone central banks.
The development raised more questions about the country's ability to fund bank bailouts that could reach as much as €100 billion.
Yields on 10-year Spanish debt soared to 6.6% Wednesday. Italian bond yields also rose after a disappointing auction of 5- and 10-year debt.
As part of a broad package of proposed economic reforms, the European Commission announced plans to form a "banking union," including some form of deposit insurance in Europe. The commission also said Spain could be given an additional year to meet its deficit reduction targets.
U.S. stocks ended higher Tuesday, as investors welcomed a lack of negative headlines out of Europe and hopes that China would announce a new massive stimulus program in response to the slowing of the world's No. 2 economy.
However, hopes for more stimulus waned after a comment by China's official news agency Xinhua made late Tuesday suggested that any spending program would not approach the actions taken by China back in 2008.
CNNMoney's Fear & Greed Index, which measures investor sentiment, remains firmly in "extreme fear" territory.
World markets: European markets sank. Britain's FTSE 100 (UKX) fell 1.8%, the DAX (DAX) in Germany lost 2% and France's CAC 40 (CAC40) plunged 2.2%.
Asian markets ended lower. The Shanghai Composite (SHCOMP) shed 0.2%, while the Hang Seng (HSI) in Hong Kong tumbled 1.9% and Japan's Nikkei (N225) fell 0.3%.
Economy: An index of pending home sales declined to 95.5 in April from 101.1 in March, the National Association of Realtors said. The index was expected to have increased, according to a survey of analysts by Briefing.com.
Due later this week are the May jobs report, as well as key readings on manufacturing and auto sales. Economists surveyed by CNNMoney forecast that employers added 150,000 jobs in May, and that unemployment remained at 8.1%.
Companies: Facebook (FB) dipped below $28 a share before regaining some ground.
Shares of BlackBerry-maker Research in Motion (RIMM) tumbled on news it hired JPMorgan (JPM, Fortune 500) and RBC Capital to review its strategic options, which is generally a signal it is putting itself up for sale. The company also warned it now expects an operating loss for its fiscal first quarter, which ends on June 2.
Shares of auto parts retailer Pep Boys (PBY) plunged after the company announced that its previously announced purchase by The Gores Group has been called off.
Seed and herbicide maker Monsanto (MON, Fortune 500) raised its full-year earnings guidance to between $3.65 to $3.70 a share, up from the $2.96 a share it earned a year ago and above the most bullish forecasts of analysts surveyed by Thomson Reuters.
Shares of troubled natural gas producer Chesapeake Energy (CHK, Fortune 500) fell after Reuters reported late Tuesday that the company was preparing to meet with many of its major lenders later this week in an effort to raise the $9 billion to $10 billion needed to close a funding shortfall. The report cited people familiar with the matter.
Shares of TiVo (TIVO) fell 8% in extended trading after the DVR maker reported a larger-than-expected quarterly loss of 17 cents per share.
Lions Gate Entertainment (LGF) said fourth-quarter revenue rose 71%, driven by the movie "The Hunger Games." But the company reported a net loss for the quarter on acquisition costs.
Currencies and commodities: The dollar gained ground against the euro and British pound, but fell versus the Japanese yen.
Oil for July delivery lost $2.94 to settle at $87.82 a barrel.
Gold futures for June delivery rose $14.70 to end at $1,563.40 an ounce.
The price on the benchmark 10-year U.S. Treasury rose, pushing the yield down to 1.62% from 1.73% late Tuesday.