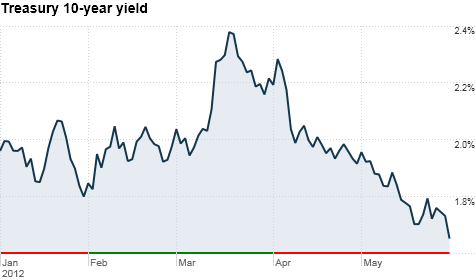 Click chart for more bonds and rates data.
NEW YORK (CNNMoney) -- Investors flocked to the safety of U.S. Treasuries on Wednesday, pushing the yield on the benchmark 10-year note to a new record low.
The yield on the 10-year note fell to a low of 1.617% Wednesday.
Worries about a deepening debt crisis in Europe and contagion threats have spooked investors on both sides of the Atlantic.
Investors flock to U.S. Treasuries in times of uncertainty because they're backed by the government. Yields fall as investors buy up the debt, driving up prices.
"The European crisis is death by a thousand cuts," said David Ader, government-bond strategist at CRT Capital. "It's not just Greece, it's not just Spain, and it's not just Italy. It's the persistent worry about how this is all going to pan out."
Wednesday's rush into to Treasuries was triggered by mounting fears about problems in Spain's banking sector. Borrowing costs in Spain and Italy surged and the euro dropped to a 2-year low.
Stocks around the globe sold off, with London's FTSE 100 (UKX) falling 1.7%, Frankfurt's DAX (DAX) slipping 1.8% and Paris' CAC 40 (CAC40) dropping 2.2%. The yield on the 10-year German bond, also considered a safe haven, fell to a record low of 1.3%.
U.S. stocks also tumbled, with the Dow (INDU), S&P 500 (SPX) and the Nasdaq (COMP) each shedding more than 1%.
Ader says the 10-year Treasuy yield could fall as low as 1.5%, given that there's no end in sight to Europe's crisis, and the U.S. economic recovery is slowing.
"There's a general malaise out there," said Ader. "We don't know if the United States will face another recession, but it's a risk."
Ader is particularly concerned about how U.S. lawmakers will handle the so-called fiscal cliff, noting that Congress will likely face another debt ceiling debate -- similar to the one that roiled markets last year -- before the November elections.
"The fiscal cliff issue is a big deal," said Ader "We don't have any hope or expectations that lawmakers will be able to get anywhere close to concluding this story for a very long time."