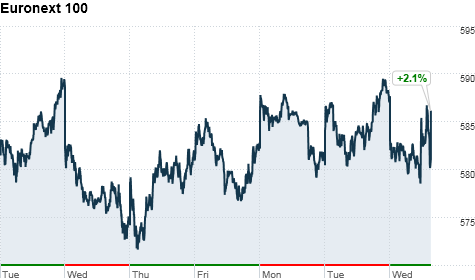 Click the chart for more world markets data.
NEW YORK (CNNMoney) -- Fears about Spain's debt problems roiled world markets Wednesday.
Stocks fell in Europe and Asia, the euro slipped to a fresh two-year low against the dollar and Spain's borrowing costs surged. Two weak debt auctions in Italy also pushed that country's borrowing costs higher, with the 10-year yield touching 6% for the first time since Jan. 30.
The global slump followed news reports suggesting the European Central Bank had rejected Madrid's plan to recapitalize Spain's fourth-largest bank, Bankia, which just asked for €19 billion in aid last Friday.
The ECB has since denied those reports, indicating that even if it had been consulted on the plan, the needed funds could not be provided by the ECB and eurozone central banks.
"The hopes that investors had pinned on Spain being able to tap into the ECB's coffers to help them bail out Bankia have been blown out the water and now they will have to rely on funding from the bond markets," said Capital Spreads chief executive Simon Denham, in a client note.
That's particularly problematic because Spain's borrowing costs are now at their highest level since November, with the country's 10-year bond trading at a 6.7% yield.
Meanwhile, Spain's IBEX 35 index slumped 2.6% Wednesday, with Bankia plunging 8.6% and Banco Popular (BPOP) losing 0.7% in trading in Madrid.
On Tuesday, credit rating agency Egan Jones cut Spain's credit rating to B from BB-, and Bank of Spain Governor Miguel Angel Fernandez Ordonez said he was resigning from his post a month early.
Separately, a broader outlook on the 17 countries in the eurozone showed economic sentiment there fell sharply in May. Sentiment fell in every eurozone country except Austria and Malta, and overall, manufacturers and retailers were particularly pessimistic.
Following a meeting about broad economic reforms Wednesday, the European Commission said the region should establish a "banking union" in addition to euro area wide deposit guarantees.
The commission also remarked that Greece's economy will only recover if it abides by a strict restructuring program required by the so-called troika -- the European Union, the ECB and the International Monetary Fund. Greece agreed to the measures in exchange for a second round of bailout funds.
Greece will host its next round of parliamentary elections on June 17, after competing political parties failed to form a coalition government.
All three European indexes closed lower. London's FTSE 100 (UKX) fell 1.7%, Frankfurt's DAX (DAX) fell 1.8% and Paris' CAC 40 (CAC40) fell 2.2%.
The euro slid to $1.24 on Wednesday, its lowest level since July 2010.
Earlier, Asian markets also slumped after a report by China's official news agency Xinhua said the country will not embark on a stimulus program nearly as large as it did in 2008.
The Hang Seng (HSI) in Hong Kong closed down 1.9% and the Nikkei (N225) in Tokyo slipped 0.3%. China's Shanghai Composite (SHCOMP) lost 0.2%.
U.S. stocks sold off sharply at the open as investors fret about possible contagion from Europe's deepening debt crisis. CNNMoney's Fear & Greed index shows investors remaining 'extremely fearful.'