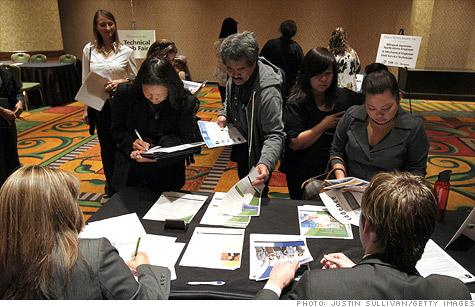 The economy likely didn't spur the creation of many jobs in May.
NEW YORK (CNNMoney) -- Don't expect to see a jobs comeback on Friday.
The economy was expected to have added 150,000 jobs last month, according to economists surveyed by CNNMoney. They project that the jobs report for May will show the private sector expanded payrolls by 162,000 jobs, but the government shed 12,000 positions.
The unemployment rate should hold steady at 8.1%.
All eyes are on Friday's numbers, after April's jobs report showed surprisingly weak growth of just 115,000 jobs, a significant slowdown from January and February, when more than 200,000 jobs were created each month.
Some job watchers had thought the slowdown that began in March and worsened in April was mainly due to warm weather earlier in the year that could have given the job market a temporary artificial boost. But another poor showing in May might dash hopes that the weakness was only a temporary blip.
Job growth that exceeds 250,000 a month is a sign of a healthy economy, while expansion of 150,000 only keeps pace with population growth.
Several reports that came out Thursday added to a sense of gloom.
Businesses added 133,000 jobs in May, according to a report issued by payroll-processing company ADP. While that marked more hiring than in April -- when the report said employers added 113,000 jobs -- it was also significantly below forecasts. Hiring at that level also pales in comparison to robust job gains seen earlier this year.
A separate report showed employers announced 62,000 job cuts in May, the most since last September. That report, compiled by outplacement firm Challenger, Gray and Christmas, showed a large increase in planned cuts at computer companies, likely due to Hewlett-Packard announcing it will slash 27,000 jobs.
The Challenger report also includes government jobs, whereas the ADP report looks at just the private sector.
Adding to the discouraging news, the Labor Department reported that 383,000 Americans filed first-time claims for unemployment benefits last week. Economists were anticipating claims would fall to 368,000.
In addition to last week's number being worse than expected, the previous week's figure was also revised higher, showing that claims have been rising for four straight weeks.
Relatively tepid employment expansion means job seekers -- particularly the young, the old and the uneducated -- must duke it out for the few available openings.
"When you are getting this drip, drip job creation, the competition is much, much harder," said Bill Rodgers, public policy professor at Rutgers University, noting that there are still about four jobseekers for every open position.
Economists lay the blame for the slow growth at the feet of Europe and Washington D.C. The steady drumbeat of headlines concerning Europe's financial woes, as well as the looming fiscal cliff in the U.S., is weighing on consumer confidence, said Sal Guatieri, senior economist at BMO Capital Markets. Adding to the problems is the slowdown in the Chinese economy.
"Businesses are worried about fiscal uncertainty," he said.
Consumer confidence, meanwhile, fell to a five-month low, according to a survey released Tuesday by the Conference Board. Only 16.6% thought business conditions would improve the next three months, while 15.8% felt hiring would pick up.
Employee confidence has also slipped for the past two months, said Joanie Ruge, chief employment analyst at Randstad, a temporary staffing firm. The belief in their ability to find a new job has dropped.
"Employees are seeing that job creation isn't happening fast enough," she said.
But companies aren't laying off people in droves, either. And downsizing in the public sector, which has shed hundreds of thousands of jobs, is finally leveling off.
If jobless claims offer any insight, May's growth will be comparable to April's. Jobless claims have been bouncing around 370,000 for four weeks, indicative of slow expansion.
Lackluster growth, however, may be the new normal, said Patrick O'Keefe, director of economic research for J.H. Kohn, an accounting firm. The nation has a more limited ability to create jobs these days in part because of increased globalization and additional constraints on credit.
"We are improving, but we are improving at a more subdued rate than existed prior to the real estate and Wall Street meltdowns and the recession," he said. "This is probably indicative of what we'll experience in the foreseeable future."