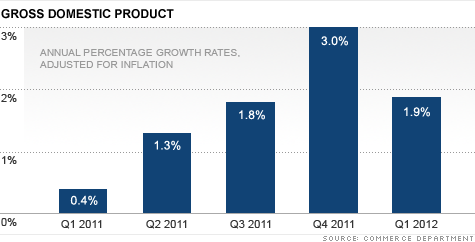 NEW YORK (CNNMoney) -- The nation's economy grew at a slower pace than previously reported in the first three months of this year, raising new concerns about economic weakness.
Gross domestic product, the broadest measure of the nation's economic health, grew at an annual rate of 1.9% in the first quarter, the Commerce Department said Thursday. The rate was lowered from the 2.2% growth rate originally reported in April, and significantly slower than the 3% growth rate in the final three months of last year.
The current growth rate is widely considered to be weak. A growth rate of about 3% is what economists typically expect will lead employers to engage in the kind of significant hiring needed to make a dent in unemployment.
On Friday, the government will release the closely watched May jobs report. Analysts surveyed by CNNMoney expect that the U.S. economy added 150,000 jobs in May, including 12,000 government job cuts. The unemployment rate is expected to stay at 8.1%.
Despite the reduced rate of growth, the U.S. economy is significantly stronger than Europe's, as both the 27 nations of the European Union and the 17-nation Eurozone had no growth in the first quarter. There are 11 European countries where GDP has declined for two or more straight quarters, the common description of a recession.
The U.S. growth trails the economic expansion in many emerging markets, such as China, now the world's No. 2 economy. China's GDP grew at an 8.1% annual rate in the first quarter. India's GDP grew at a 5.3% rate in the first quarter.
Growth in both of those major emerging economies was significantly slower than at the end of last year.
Spending by U.S. consumers, which makes up more than two-thirds of the nation's economic activity, was somewhat stronger than overall growth, rising at a 2.7% annual rate. Demand for big-ticket items, such as automobiles, drove much of that increase, as those purchases increased at nearly a 15% annual rate.
But government spending fell in the quarter, shaving nearly 0.8 percentage point off growth. Spending by businesses was also weak, as investment in equipment and software added only 0.3 percentage point, the smallest contribution to growth by that bellwether reading since the second quarter of 2009, when the U.S. economy was still in recession.
The slow growth is expected to continue in the United States for the foreseeable future. The Federal Reserve currently forecasts a growth of between 2.2% to 2.7% for all of 2012. While it expects slightly better growth in 2013 and 2014, the Fed's long-term forecast is for annual growth is between 2.3% to 2.6%.
Joseph LaVorgna, chief U.S. economist for Deutsche Bank, said he believes that stronger growth is possible later in the year, which is what happened in 2011. He points to the recent drop in oil and gasoline prices as one factor that could provide a lift.
"That acts like a big tax cut for households and businesses," he said.
But he said such growth could be derailed by problems with European sovereign debt, which many experts fear could quickly spread like a contagion. LaVorgna said just the uncertainty about Europe could limit growth for at least a little longer.
"It seems to me for the near term, we might be stuck in 2% purgatory," he said.
The problem of Europe teetering on the cusp of recession likely slowed growth in both the United States and China in the first quarter, since Europe is a major market for exports from both countries. Trade with other countries, which added to U.S. GDP last year despite the trade gap, trimmed about 0.1 percentage point off first-quarter growth.