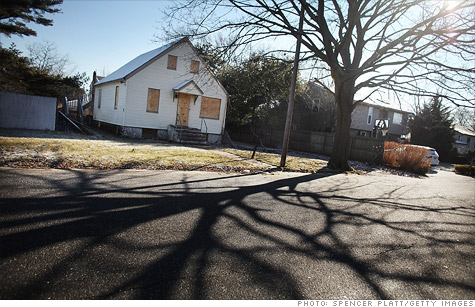 NEW YORK (CNNMoney) -- Homes in some stage of foreclosure accounted for more than one in four home sales during the first three months of the year, according to a report released Thursday.
Distressed properties that were either in default, scheduled for auction or bank-owned accounted for 26% of all residential sales during the first quarter, up from 22% in the previous quarter and 25% a year earlier, RealtyTrac said.
Altogether, 233,299 distressed properties were purchased during the quarter, an 8% increase from the previous quarter. Those homes sold for an average of $161,214, 27% below the average price of a home not in foreclosure.
"Foreclosure-related sales picked up in the first quarter, particularly pre-foreclosure sales where a distressed homeowner is selling to avoid foreclosure -- typically via a short sale," Brandon Moore, chief executive of RealtyTrac said in a statement.
Pre-foreclosure sales, which are often sold as short sales, hit a three-year high during the quarter "even as the average pre-foreclosure sales price dropped to a record low," Moore said.
There were nearly 110,000 short sales in the quarter, up 25% from a year earlier and comprising 12% of all homes sold during the first quarter, according to RealtyTrac.
In short sales, borrowers who owe more on their mortgages than their homes are worth, agree with their bank to sell their homes at the lower market value. In return, the bank agrees to absorb the loss.
During the quarter, homes sold in short sales went for an average price of $175,461, the lowest level since RealtyTrac began tracking foreclosures in 2005.
Short sales are becoming the preferred method for banks to unload properties in default.
Banks typically get about 20% more for a short sale than they would for a foreclosed home. In addition, short sale deals get done much more quickly than foreclosures, which can take years to unload, during which expenses, like property taxes and insurance, mount up.
During the first quarter, it took an average of 306 days to complete a short sale, compared to 370 days for a foreclosure.
"Lenders are approving more aggressively priced short sales, which in turn is resulting in more successful short sale transactions," Moore said.
Meanwhile, sales of properties repossessed by the banks, called REOs, fell 15% year-over-year to 123,778, comprising 14% of all sales during the quarter.
Nevada, where housing bubbled during the boom and sank during the bust, had more distressed property sales than any other state, followed by California and Georgia, RealtyTrac said.