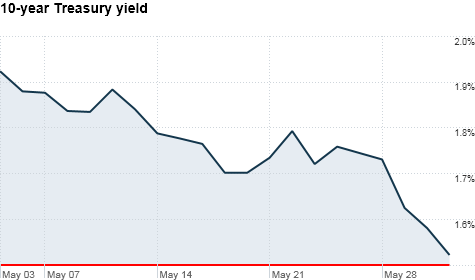 Click chart for more markets data.
NEW YORK (CNNMoney) -- Extreme fear gripped investors around the world Friday, sending them fleeing for the safety of U.S., German and U.K. bonds.
Investors have already been spooked by Europe's deepening debt crisis, causing yields to plumb new lows throughout the week. The yield on the 10-year U.S. note slid as low as 1.46% Friday, falling below 1.5% for the first time ever.
The mass exodus also pushed yields on 10-year German bunds and 10-year U.K. gilts to record lows. Both are also considered safe havens in times of extreme uncertainty.
Friday's disastrous jobs report was just the catalyst needed for that flight to safety, even prompting worries about the dreaded 'R' word, as in recession, to resurface.
"Everything up until this morning was about distress in Europe," said Guy LeBas, fixed income analyst at Janney Research. "Now we're really entering a new phase of the Treasury rally because of disappointing domestic economic conditions."
The quick move below 1.5% shows just how scared investors truly are if they're willing to accept practically no return in exchange for security of an investment backed by the U.S. government. (Yields fall as prices rise.) Inflation in the U.S. hovers above 2%.
"What's occurring today is that investors today are paying to be able to access their money in the Treasury and get it back when they want it," said William Larkin, fixed income portfolio manager at Cabot Money Management.
How low can yields go? There's virtually no floor, according to experts, who say the current urgent need for security could easily push the 10-year U.S. Treasury yield to 1.19% -- on par with the 10-year German bund.
"People are literally trading on fear," said Jack Flaherty, a fixed income portfolio manager at the hedge fund GAM. "The U.S. is more of a safe haven than Germany, which is in the eye of the storm."
Just take a look at CNNMoney's Fear & Greed Index to see how deep the fear is running.
The index, which tracks risk through a series of seven indicators, is at its lowest level since last August. Among the risk factors showing extreme fear are market volatility, stock price strength and demand for safe haven bonds and junk bonds.
Over the past two weeks, as fears over the health of Spanish banks have come into question, investors have pulled funds out of Spain. And much of that has ended up in U.S. Treasuries.
Investors and major funds have been pulling money from risky economies like Greece, Spain, Portugal and Ireland since last year, and moving into safer regions including Germany and France.
While that's driven the move into German bunds and U.K. gilts, investors expect Treasuries to see more action as funds move to diversify outside of Europe.
"The Treasury market is a utilitarian one, because it's the most liquid in the world," said Larkin. "Players then become price insensitive and that's a dangerous thing."
Analysts see few catalysts that would push government bond yields back up and a groundswell of factors transpiring to keep downward momentum going. Even further intervention by the Federal Reserve can only do so much with interest rates this low.
Not only are investors seeing potential signs of a slowdown in the U.S., but the once-raging economies of China and India are seeing growth trail off.
Meanwhile, the situation in Europe looks like it could get worse in the near-term, and should policymakers magically wrap up Europe's problems with a bow, there's that fiscal cliff in the United States looming not too far in the distance.
"I don't see any reason to think that 10-year yields will move out of the 1% to 2% range before the end of the year and beyond that," said Michael Brand, global head of fixed income strategy at Citi Private Bank. "I don't think we're going back to a level reflecting higher inflation or growth prospects for a long time."
Stocks around the globe sold off Friday, with London's FTSE 100 (UKX) closing down 1.1%, Frankfurt's DAX (DAX) slipping 3.4% and France's CAC 40 (CAC40) dropping 2.2%.
U.S. stocks also tumbled, with the Dow Jones industrial average (INDU), S&P500 (SPX) and Nasdaq (COMP) composite plunging more than 2%.