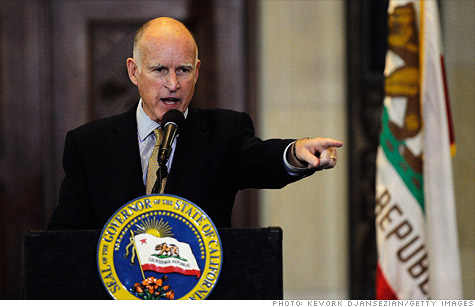 California governor Jerry Brown.
NEW YORK (CNNMoney) -- California's budget woes have come home to roost for the state's politicians.
California's Citizens Compensation Commission, an independent government body, voted Thursday to cut the pay of the governor and state legislators by 5%. The move follows a budget proposal by the state's governor, Jerry Brown, that would cut the salaries of state workers by 5% in the coming fiscal year.
With the reduction, the governor's annual salary will drop from $173,987 to $165,702. For rank-and-file lawmakers, salaries will fall from $95,291 to $90,750.
A spokeswoman for Brown said the governor had no problem with the decision, and would have been willing to have his salary cut by more.
The cuts will save less than $700,000 a year, just a drop in the bucket when it comes to closing California's massive deficit. The state faces a budget shortfall of $16 billion that must be closed by July.
In addition to the pay cuts for state workers, Brown's budget would also reduce court funding by $300 million and overhaul the corrections system, saving $2.5 billion over the next two years. Overall, it would slash spending by $8.3 billion, hitting almost every part of the state's government.
Thursday's decision follows a 2009 vote from the Compensation Commission that slashed salaries for elected officials by 18%.