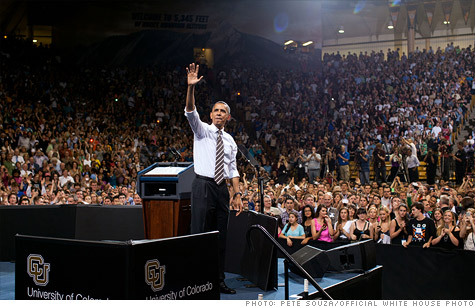 President Obama on the campaign trail.
NEW YORK (CNNMoney) -- President Barack Obama has made a boatload of promises for the economy.
He's pledged to do plenty of things during his presidency -- cut the deficit in half, double exports and slash unemployment. The list goes on and on. Some have worked out, and others not so much.
But what exactly did candidate Obama promise to do for the economy in 2008 in order to win favor with voters? And did he follow through?
He promised to pass a new health care law. Done. Push Wall Street reform. That's done too.
He also said he would establish a credit card bill of rights, ramp up loan programs for small businesses and expand eligibility for Medicaid. Done, done and done.
But on a few other campaign issues, the president has fallen short.
The Bush tax cuts: President Obama repeatedly said in 2008 that he wanted the Bush tax cuts to expire for couples with incomes over $250,000.
His best shot came at the end of 2010, when the Bush tax cuts were slated to expire, an event that would have raised the top two income tax rates to 36% (from 33%) and 39.6% (from 35%) for high income households.
But after encountering opposition from congressional Republicans, Obama caved, instead cutting a deal that kept the tax cuts in place in exchange for several other stimulus measures that were top White House priorities.
Those measures included a break on how much is deducted from workers' paychecks for Social Security, tax incentives to encourage businesses to step up their investments and an extension of unemployment benefits.
In defending his decision, Obama said that he had to break his promise because his plan would have never survived an encounter with a Republican Party emboldened by its mid-term electoral success.
"This has to do with what can we get done right now," Obama said. "I'm as opposed to the high-end tax cuts today as I've been for years," he continued. "In the long run, we simply can't afford them."
At the same time, Obama had another promise: He pledged to end the freshly-extended tax cuts when they expired at the end of 2012.
Fast forward two years and the Bush tax cuts are expected to be a major sticking point in negotiations over the so-called fiscal cliff that Congress will likely tackle during their post-election lame duck session.
Will Obama be able to keep his promise this time? Stay tuned.
Windfall tax on oil companies: While the Bush tax cuts are still a part of the national conversation, a windfall tax on oil company profits is not.
Almost exactly four years ago, Obama was riding high after Hillary Clinton suspended her campaign, and he made a promise.
"I'll make oil companies like Exxon pay a tax on their windfall profits, and we'll use the money to help families pay for their skyrocketing energy costs and other bills," Obama said.
The windfall tax would have skimmed the top off the mega-profits oil companies were earning. Average families would have received $1,000 checks as a result.
At the time, gas prices were at $3.70 per gallon and climbing. Bashing oil companies was popular. But by inauguration day, gas prices had declined sharply, and Obama abandoned the idea.
Joshua Freed, a clean energy policy expert at Third Way, a centrist Democratic think tank, said it's no surprise that the windfall tax fell by the wayside.
Freed, who was an outside adviser to the Obama campaign in 2008, characterized the issue as a narrow area of policy that has been overtaken by movement on larger issues, including broad corporate tax reform.
And he pointed to other Obama accomplishments, including fuel economy standards and a decline in dependency on foreign oil as meaningful progress made by the administration in the area of energy policy.
Cap and trade: Cap and trade, a system which puts a price on greenhouse gas emissions, was a centerpiece of candidate Obama's energy and environmental policy.
"As president, I will set a hard cap on all carbon emissions at a level that scientists say is necessary to curb global warming -- an 80 percent reduction by 2050," Obama said in 2007.
Four years later, cap and trade is still a dream for environmentalists, and there are no prospects for its implementation.
The White House pushed for cap and trade as part of a larger climate bill in 2009. The House passed the package, but the proposal to cap emissions ran into opposition in the Senate.
After it became clear Senate Democrats didn't have votes, cap and trade was stripped from the bill, which eventually cleared the Senate.
"Cap and trade was just one way of skinning the cat. It was not the only way," Obama said at the time. "It was a means, not an end. And I'm going to be looking for other means to address this problem."
Cap and trade's fate was sealed in the 2010 midterm elections, as Republicans took control of the House and picked up seats in the Senate.
Suddenly, the White House faced a much more recalcitrant Congress, and passing legislation of any kind, let alone campaign promises, became more difficult. Going forward, prospects are dim.
"Cap and trade is dead," Freed said. "It no longer resonates with voters from either side."