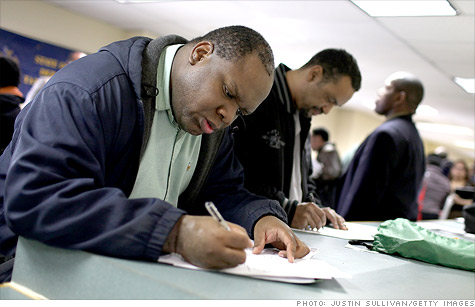 The unemployment rate is likely to fall as people lose their jobless benefits.
NEW YORK (CNNMoney) -- The unemployment rate could fall in coming months, but don't get too excited.
It won't necessarily be a sign the job market is improving.
More than a half million long-term unemployed people are losing their federal extended unemployment benefits. And when the checks stop coming, one of two things are likely to occur: They'll take any job they can get to stay afloat financially or they'll drop out of the labor force completely.
Either way, they won't be counted as unemployed anymore.
The federal extended benefits program has provided the jobless with up to 20 weeks of unemployment checks after they've run through their state and their federal emergency benefits, which together last up to 79 weeks.
But the extended benefits program is expiring throughout the country as the economy improves. To be eligible for these payments, a state must show that its unemployment rate is at least 10% higher than it was in at least one of the past three years. And state unemployment rates have been dropping as the jobless find new positions or exit the workforce.
More than 400,000 people have already lost these extended benefits, while more than 115,000 more will see their payments disappear over the summer. These folks join many others who simply exhaust their unemployment insurance.
Some of those who lose benefits will continue to look for jobs and be included in the unemployment rate.
But others won't have the luxury of being choosy. They'll take whatever they can get, which will put them in the "employed" category.
"It will encourage more people to take jobs that may not pay as much," said Lynn Reaser, chief economist with the Fermanian Business & Economic Institute at Point Loma Nazarene University. "They won't wait as long to accept a job."
On the flip side, others will just drop out of workforce entirely. Some may go back to school, while some will retire earlier than planned.
And still others may just stop looking for work, so they won't be included in the unemployment rate. To be eligible for jobless insurance, you must be actively searching for a job, a task they won't have to continue if their benefits expire.
The unemployment rate could drop by as much as half a percent over the next year due to the loss of these benefits, said Mark Zandi, chief economist of Moody's Analytics.
He thinks the cessation will force more younger workers to take available jobs, which is a good thing.
"It would be nice if the unemployment rate were falling because of straight-up job creation," he said. "But at this point, it will be more of a plus than a negative."
The unemployment rate has already lost some of its usefulness as a measure of job market health. It held steady at around 9% for most of 2011, before dropping to 8.1% in April. It notched up to 8.2% last month.
But some of that improvement is due to a shrinking labor force. In April, only 63.6% of Americans over age 16 participated in the labor force, the lowest rate since 1981.