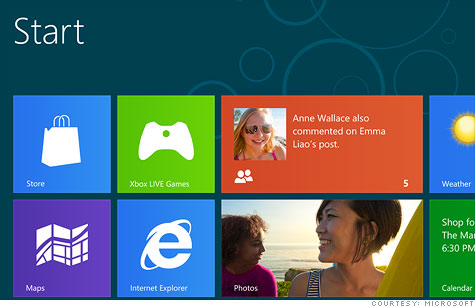 Windows 8's Internet Explorer 10 browser will turn on 'do not track' by default to block advertisers from tracing your footsteps.
NEW YORK (CNNMoney) -- Technology that prevents advertisers from following your online footprints has been around for a couple years, but Microsoft became the first browser maker to turn that feature on as the default setting.
The next version of Internet Explorer, called IE10, will force users to opt-in if they want to be tracked by ads.
In the current version of Microsoft's browser, as well as other Web browsers like Google's Chrome and Mozilla's Firefox, "do not track" is an option that users need to turn on themselves.
"This decision reflects our commitment to providing Windows customers an experience that is 'private by default' in an era when so much user data is collected online," said Dean Hachamovitch, head of Internet Explorer, in a blog post late Thursday.
"We think it is progress and that consumers will favor products designed with their privacy in mind over products that are designed primarily to gather their data," Hachamovitch added.
The new feature went live along with Windows 8's release preview on Friday. IE10 will be the featured browser on Windows 8, which is expected to be released to the general public this fall.
The impetus for the change was the Obama administration's February push for browser makers to implement a simple "Do Not Track" button.
Since 2010, the largest online advertisers have allowed users to opt out of online tracking by installing a special cookie on their computer called "Tracking Protection." But administration officials called that process both confusing and overly complicated.
Due to what the White House described as a rapid increase in online fraud and in customers' confusion about how and when they're being tracked, the Do Not Track button was recommended.
As a result, the Digital Advertising Alliance, a consortium of advertising networks, enhanced its "Do Not Track" technology for most major Web browsers. DAA represents about 90% of online advertisers, including those in Google (GOOG, Fortune 500), Yahoo (YHOO, Fortune 500), Microsoft (MSFT, Fortune 500) and AOL's (AOL) ad networks.
Though the feature is available on Chrome, Firefox and other browsers, Microsoft is the first to make users actively decide that they want to be tracked. The status quo has always been an opt-out.
It's a bold decision, and due to Internet Explorer's large size, it potentially could deal a damaging blow to big ad networks' ability to provide personalized, targeted ads.
Internet Explorer maintains a 54% share in the browser market, according to NetApplications, though it typically takes years for new versions of the browser to replace older ones. IE8, for instance, still maintains 10 percentage points of market share more than the current IE9 version.
Representatives from Google, Yahoo and AOL did not respond to requests for comment on how Microsoft's new system would impact their ad networks. But the Association of National Advertisers, a consortium of 450 companies, strongly opposed Microsoft's plan, calling it "irresponsible."
"Microsoft's decision, made without industry discussion or consensus, undercuts years of tireless, collaborative efforts across the business community," said Bob Liodice, CEO of ANA. "We reject efforts by any provider or other group to unilaterally impose choices on the consumer in this critical area of the economy."
There could be another motivation behind Microsoft's decision: Internet Explorer's market share has been on the decline for years, with Google's Chrome outpacing it by some metrics. By appealing to users' growing concern about online privacy, "do not track" could serve as a marketing tool to gain back some of that share.
But Microsoft also owns a large online ad network. Accordingly, the company acknowledged that it hopes some users "make the conscious choice" to turn the new feature off and allow to be tracked.
"For us, that is the key distinction," said Brendon Lynch, Microsoft's chief privacy officer, in a separate blog post. "Consumers should be empowered to make an informed choice and, for these reasons, we believe that for IE10 in Windows 8, a privacy-by-default state for online behavioral advertising is the right approach."