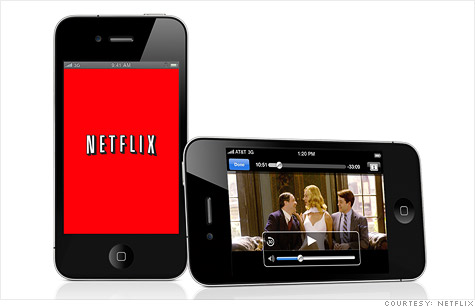 Netflix jumped to No. 1 in online video revenue last year, while Apple missed out on the growth in subscription services.
NEW YORK (CNNMoney) -- Apple is used to life on top of the heap, thanks to the iPhone and iPad. But Netflix has officially unseated Apple in one major field: online video.
Netflix jumped to No. 1 in market share on a revenue basis, as subscription video soared in popularity -- an area where Apple is missing out.
Research firm IHS iSuppli released the report on Friday, in which research director Dan Cryan said 2011 "marked a sea change ... a shift from a DVD-like transactional model to more TV-like subscription approach."
Netflix (NFLX) offers an unlimited streaming-only plan for about $8 per month, while Apple doesn't have a subscription service. Instead, customers can buy movies and TV episodes from the iTunes Store.
As a result of that shift to subscriptions, Netflix (NFLX) notched 44% of online movie revenue in the U.S. last year, up from just 0.4% in 2010.
Apple's (AAPL, Fortune 500) share fell to 32.3% of the market in 2011, down sharply from 60.8% the previous year.
IHS noted that consumers tend to use each type of service for different kinds of content: new releases on iTunes-like services, and older titles on subscription sites.
But IHS added that Netflix and the subscription market at large shouldn't expect more years of banner revenue growth, noting that "Netflix's customer transition is now complete."
Microsoft (MSFT, Fortune 500), Vudu (owned by Wal-Mart (WMT, Fortune 500)) and Sony (SNE) round out the top-five list, but each of those have only single-digit percentage shares of the market's revenue.
Overall, the online video business more than doubled in 2011 to $992 million in sales. IHS iSuppli expects that figure to double again in 2012.