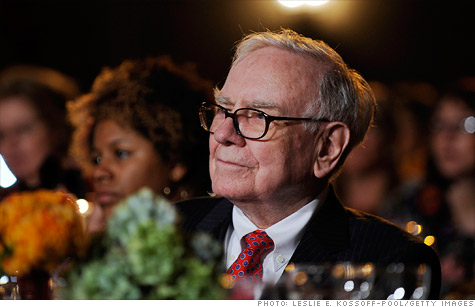 Bidders can win a lunch date with billionaire investor Warren Buffett in an auction that benefits the Glide foundation.
NEW YORK (CNNMoney) -- For the 13th year in a row, the opportunity to share a power lunch with billionaire investor Warren Buffett will go to the highest bidder.
The annual online auction for a chance to dine with Buffett began on Sunday evening. All bidders must be prequalified and prepared to shell out at least $25,000.
Proceeds from the auction benefit Glide, an organization that alleviates poverty in the San Francisco Bay area.
The opening bidder, who anonymously posted on the special eBay page on Monday morning, came in at the minimum entry with $25,000. Last year's anonymous winner pledged $2,626,411, topping the $2.6 million record set in 2010.
The winner and seven friends will have the chance to break bread with the chairman and chief executive of Berkshire Hathaway BRKA (BRKA, Fortune 500) at Smith & Wollensky in New York. Over the last decade, Buffett has raised more than $11.5 million for Glide, which he called "maybe the most effective organization...for people down on their luck."
"They took the people that the rest of the world would have forgotten, people who had given up on themselves. And they felt every human being had a potential, no matter what their circumstances," he said.
Bidding will continue until Friday at 10:30 p.m. ET.