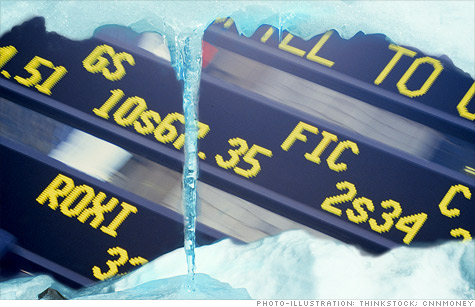 With Kayak.com, Formula One and London Jeweler Graff Diamonds pulling IPOs, the post-Facebook IPO market appears to be frozen shut.
NEW YORK (CNNMoney) -- The IPO market is settling into a deep freeze following Facebook's troubled initial public offering two weeks ago.
At least five companies have postponed their IPO plans in the past week. Among them: travel company Kayak.com, which planned to debut on the Nasdaq (COMP); Formula One, which was set to go public in Singapore; and London Jeweler Graff Diamonds, which had been planning a $1.5 billion IPO in Hong Kong.
"Facebook alone froze the pipeline. It was done so poorly by the underwriters, and there had been so much hype around this deal that it's produced so much angst and fear about the IPO market," said Scott Sweet, managing director of IPO Boutique.
Last week's bloodbath on Wall Street following a dismal U.S. jobs report makes it even more unlikely that companies will want test the public market anytime soon.
Corsair Components and Tria Beauty, which were both expected to go public before Memorial Day, put their IPO plans on hold indefinitely.
Online firewall provider Palo Alto Networks, risk management software company Reval Holdings, craft retailer Michael's and cloud computing firm ServiceNow were among some of the other highly anticipated IPOs that were expected to launch after Memorial Day. None of the firms were available for immediate comment.
Why the freeze? First, there are worries that large and small investors who got burned by Facebook's errant first-day of trading on Nasdaq won't even consider buying into an IPO right now.
In the Facebook blamegame, lead underwriter Morgan Stanley (MS, Fortune 500) has come under attack for overvaluing the stock, which is now trading nearly 29% below its IPO price.
New companies are now worried that underwriters may significantly underprice their shares to simply get investors interested in this environment, according to several experts.
"Underwriters are going to have to price the next IPO so reasonably to force it to work," said Sweet.
Companies appear to be wary of becoming that market test case.
The sea change signals a retrenchment for a market that was finally starting to open up. The IPO market ground to a near halt in 2008 and 2009 with just eight venture capital-backed companies tapping the public markets in each year, raising $562 million and $904 million respectively, according to Dow Jones VentureSource.
By 2010, 47 venture-backed U.S. companies went public, raising $3.2 billion, and last year 45 companies went public, raising $5.3 billion.
The IPO market was on track to beat both prior years in 2012, with 28 companies filing by the time of Facebook's May 18 IPO. So far, companies have raised $8.9 billion in 2012, thanks largely to Facebook.
It's too early to say how long this deep freeze will continue but market watchers aren't willing to wager on many more companies coming to market anytime soon.