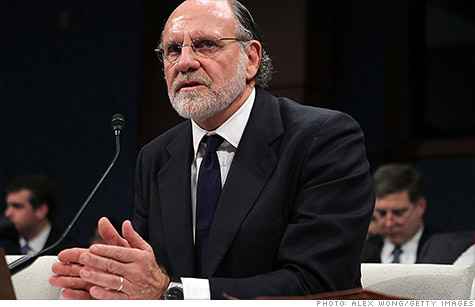 The trustee trying to recover missing client funds at MF Global intends to file claims against former CEO Jon Corzine as well as some other former top executives at the firm.
NEW YORK (CNNMoney) -- The trustee trying to recover funds for customers of bankrupt brokerage firm MF Global says he will go after its former CEO, Jon Corzine, for some of that money.
A spokesman for the trustee, James Giddens, said that Giddens is in discussions on whether to file his own lawsuit against Corzine and other former top executives of the firm, or whether to join suits already brought by plaintiff attorneys.
"It's just a question of what's the most efficient way to recoup the money," said Kent Jarrell, Giddens spokesman.
Former MF Global customers have claims of about $1.6 billion, according to the trustee. Many of those clients were individual investors and farmers who used commodities contracts as part of their normal course of business.
Giddens has located much of the money missing from customer accounts, and is preparing to start returning some of the money to clients within a week or two. Domestic customers could get between 72 cents to 80 cents on the dollar, while customers with overseas accounts could get about 10% of the funds returned. Approval by the bankruptcy court is needed before the distributions can be made.
Giddens does not have any law enforcement or regulatory authority, so the report he issued Monday draws no conclusions about possible criminal liability or whether the officials face sanctions for regulatory violations.
But he said that he believes that "claims of breach of fiduciary duty and negligence may be asserted against" Corzine and other former top executives, including Henri Steenkamp, who had been chief financial officer, and Edith O'Brien, who had been assistant treasurer.
He is also working with various law enforcement and regulatory agencies investigating the firm, as well as with lawyers for plaintiffs who are suing to recover money.
The report, which was filed with the bankruptcy court in New York Monday, does not specifically say that Corzine authorized or knew of the misuse of customer funds in the final days of the firm before the Oct. 31 bankruptcy filing.
But it said that "management's actions, along with the lack of sufficient monitoring and systems, resulted in customer property being used" to fund the cash drains elsewhere in the firm.
Corzine, a former U.S. senator and New Jersey governor who made his fortune as the head of Goldman Sachs (GS, Fortune 500), is the one who put MF Global on the path to its collapse, said the report.
"MF Global's business dramatically changed after Jon Corzine took over as CEO and Chairman of the Board of MF Global Holdings in March 2010," said the report. "The company moved from being a modest customer and proprietary security business into a full-service global investment bank, with new lines of business that increased demands for daily liquidity."
In testimony before various congressional panels, Corzine testified said he has no idea how the money went missing, never ordered customer funds be misused and did not learn of the massive shortfall until less than 24 hours before the firm filed for bankruptcy.
But despite the changes, MF Global's management did not expand or modernize the firms's Treasury department, and it never implemented systems or tools for accurate real-time monitoring of its cash position and demands.
Andrew Levander, Corzine's attorney, was not immediately available for comment early Monday following the release of the report.