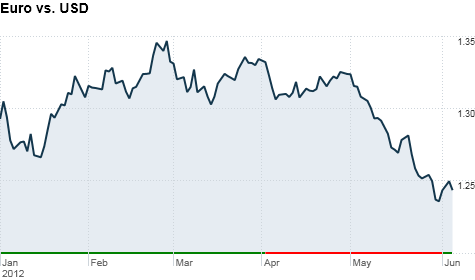 The euro has dropped against the dollar as hedge funds have increased bets against it.
NEW YORK (CNNMoney) -- Hedge funds are taking increasingly larger bets against the euro, as the debt crisis in Europe continues to heat up.
A record number of hedge funds made so-called short bets, or wagers that the euro would weaken, according to the latest report from the Commodities Future Trading Commission that tallied the data for the week ended May 29.
Citigroup's foreign exchange analysts said hedge funds spent nearly $36 billion betting against the euro during that week. Only $11.8 billion went toward bets on a stronger euro.
The euro is down 7% from April, currently trading around $1.24.
The euro will most likely continue to trend lower, but most experts don't expect a free fall. "It will drip lower [but] there will be no overnight collapse," said Douglas Borthwick, head of trading at currency trading firm Faros Trading.
Hedge funds and other investors are capping their bets on the euro's decline because they could get burned if European leaders intervene, according to analysts and traders.
Any attempts by European leaders to shore up the financial system could quickly push the euro higher.
European Central Bank officials are meeting Wednesday, and finance ministers from the Group of Seven major economic powers held a conference call Tuesday to discuss Europe's deepening crisis.
While the ECB is expected to hold rates steady, investors will be listening for any hints from the central bank's president, Mario Draghi, about steps he might consider if the crisis worsens.
Borthwick said many hedge funds holding euro short positions are so-called momentum funds that make bets based on technical levels.
Despite the intense pressures around Europe, the euro currency has been remarkably buoyant, in large part due to Germany's healthy economy.
"Investors have really been taking a surgical approach to weakness in Europe by shorting Spanish banks, Italian banks, Greek banks," said Borthwick. "They haven't been taking the blunt approach of just selling the currency."
Still as talk of a so-called "Grexit" heats up, and Spain's economy continues to teeter on the edge, investors have to walk a fine line when it comes to the euro.