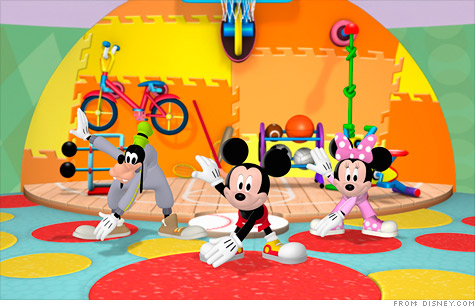 Walt Disney Co. announced new nutritional guideline for food ads on its various kids networks such as the Disney Channel.
NEW YORK (CNNMoney) -- Walt Disney Co. unveiled new rules for its children's networks Tuesday that could ban ads for junk food marketed to those young viewers.
CEO Robert Iger announced the new policy at an appearance with First Lady Michelle Obama in Washington. The policy will apply to Disney Channel, Disney XD, Disney Junior, Radio Disney, and Disney-owned online sites oriented to families, effective by 2015.
Based on guidelines released by Disney Tuesday, many popular kids meals, such as Happy Meals from McDonalds (MCD, Fortune 500), or Fruit Loops breakfast cereal from Kellogg (K, Fortune 500), would not be able to be advertised, according to nutritional information about those products on the companies' websites.
"Parents tell us they need our support and we're listening," said Iger. "And as it turns out, doing the right thing for kids just happens to be a smart strategy for the Walt Disney Company and for its businesses -- opening up new markets for us and building on our relationships with families."
The policy will not apply to ads on adult-targeted Disney networks, such as the various ESPN sports networks or ABC's prime-time programming, which are the major profit drivers at the media conglomerate.
Michelle Obama has been leading a national campaign for healthier diets. Her push includes new school lunch guidelines and a physical exercise program called "Let's Move" aimed at reducing childhood obesity.
While the Disney initiative is limited to ads aimed at children, the First Lady praised the move and said she hoped other media companies would follow suit.
"I'm thrilled that over the next couple of years, when our kids tune into their favorite shows on Disney channels or they log onto the Disney website, they will no longer be bombarded with unhealthy messages during those commercial breaks,'" she said.
According to the White House, American children see an estimated $1.6 billion a year worth of food and beverage marketing, and many of those ads are for food that are high in calories and sugar, but low in nutrition.
The nutrition guidelines are aligned to federal standards to promote fruit and vegetable consumption, and limit calories and saturated fat, sodium, and sugar in the products being advertised.
Among the limits, each serving of food advertised on the networks can only have 1.1 grams or less of saturated fat, 2.5 grams or less of sugar and 600 milligrams or less of salt for breakfast or mini meal, 300 milligrams or less of salt for a side dish and 740 milligrams or less for an entire meal.
ABC spokeswoman Michelle Bergman said she could not say how much of Disney's advertising could be affected by the ban, or whether the company might expand the policy to its other networks.
The Disney Channel itself does not carry advertising, although Disney XD does. The policy applies to the Saturday morning cartoon shows carried on Disney-owned affiliates of ABC, which includes the biggest markets in the country such as New York and Los Angeles. But it does not apply to all family oriented programming from the company, such as ABC Family or some prime-time shows.
Shares of Disney (DIS, Fortune 500) were little changed in Tuesday trading.
--CNN's Lindy Royce in Washington contributed to this story.