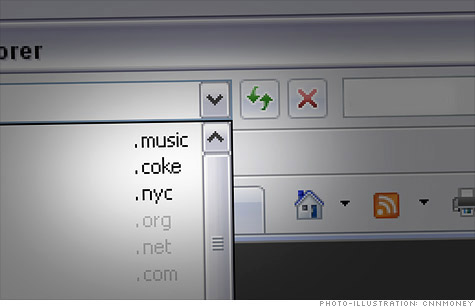 Donuts is just one of the hundreds of companies that have applied for new generic top-level domains (gTLDs) -- the ".com" part of website addresses
NEW YORK (CNNMoney) -- Internet addresses are about to expand way past .com and .org, to .whatever you can imagine. With this massive expansion comes a big business opportunity -- and one startup hopes to cash in.
Donuts, a web registry founded in 2011, has raised more than $100 million from investors. Its goal is to obtain and operate 307 new "dot-brand" suffixes.
Donuts is just one of hundreds of companies that have applied for new generic top-level domains (gTLDs) -- the ".com" part of website addresses -- in a huge upcoming rollout. The full list of applicants, and their proposed new domains, will be announced on June 13.
"It's an absolutely enormous subject, and one that people have been talking about for a long time," says Daniel Schindler, one of Donuts' four co-founders. "The existing spaces [like .com] are saturated."
That's the catalyst for the gTLD expansion, which is being managed by the Internet Corporation for Assigned Names and Numbers (ICANN). It's the non-profit, global coordinator of the Internet's naming system.
Last June, ICANN approved a plan to open for submissions and review thousands of applications for new gTLDs -- a process that began earlier this year.
Schindler and his co-founders started Donuts last year expressly to take advantage of the opportunity. The company started with a list of 3,000 potential domains, he says.
"We made a long list of dictionary terms, in multiple languages and character sets," Schindler says. "We created our own proprietary way of valuing the [gTLDs], and that helped us narrow it down. But 307 is still a lot, obviously."
Donuts is playing its list close to the chest; Schindler declined to comment on any specific domains. Many companies have stayed quiet ahead of reveal day for competitive reasons: As of May 30, ICANN said it had received about 1,900 applications.
Some organizations have gone public with their intentions. Google (GOOG, Fortune 500) last week revealed some of the gTLDs it's applied for, including .google, .youtube., .docs and .lol.
Each domain application costs $185,000 -- which means Donuts shelled out $56.8 million on its list.
That doesn't include the technical setup and upkeep costs on a single domain, which could run additional thousands -- or even millions -- per year. Plus, each application is required to include scores of policy documents.
"It's been a challenge, let's put it that way," Schindler says. "The system was not designed for an applicant of our magnitude. It was laborious."
A technical meltdown added to the headache. On April 12, ICANN took its web-based application system offline after a "glitch" allowed some users to see others' data. ICANN planned to have the system back within a few days, but the issues persisted for weeks.
The system was finally fixed, and the expansion process will kick into high gear after the June 13 reveal. That will be a busy time for Donuts, as it will likely have competition for at least some of its 307 hoped-for domains.
With domains like .web and .sport, many suitors are expected to battle for the same coveted keyword. So if multiple applicants want a single domain, and ICANN deems them equally worthy, the name goes to auction -- which could end up costing millions for the winning bidder.
Schindler isn't worried about that process.
"Our goal is to get 100% [of our applied-for domains]," he says. "[Our investors] are backing our judgment. And now, access to money is not a problem."